My Guardian Angel
February 27, 2013
Imagine everything you've ever known, every piece of normal, being ripped away from you. Imagine being told that something you took for granted for ten years is suddenly gone. No goodbyes and no warning. Imagine the pain you feel when the words sink in. "Your daddy is dead." It was July 10, 2009 when I was told that my dad would never come home. It was July 10, 2009 that my life I'd come so accustomed to met a brick wall. But it was July 10, 2009 that I realized God wasn't going to take someone that special away without giving me someone else to love.

I was starting fourth grade in a new town. It was scary, not knowing anyone and having everyone stare at you like you were in a big banana costume. My teacher, Ms. Dorris, did everything she could to make me feel welcome. I knew I liked her from the start. She introduced me to my first friend, who stayed my best friend for the next three years. Pretty soon I was settled in, but Ms. Dorris checked on me throughout the year anyway. When summer began I thought that Ms. Dorris would be a good memory, but she would soon be at my house. First she would deliver me a teddy bear with her phone number, and let me sob on her shoulder. Then, an hour later, she would bring cookies. Finally, she would be back with groceries to put with the stacks of untouched "comfort" food. She'd hug me tight, giving much needed sympathy as I tried to grasp my dad's death.

From that day forward, she has been my rock. I am now three months away from being a freshman, and I still talk to her on a weekly basis. Honestly, I can't count the number of times she's been here for me. If anyone knows me better than I know myself, it's her. I know that God's got my back because in the middle of a rainstorm, he gave me a rainbow. She is one of the greatest women I have ever had the pleasure of knowing, and although I may be about twice her height I still look up to her. Her name is Ms. Dorris and she is my Guardian Angel.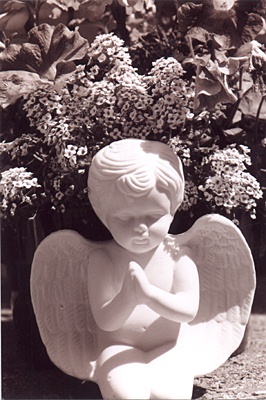 © Laurie T.,Hopkinton, MA