John Lennon, Musician/Antiwar Activist
MAG
January 29, 2009
The evening of December 8, 1980, John Lennon, beloved singer, songwriter, and political activist, was shot and killed in front of his apartment building in New York City. He was only 40. Lennon is a hero to me. Even though he was not alive during my generation, his influence lives on through his music and messages of peace.

John Lennon was born in England on October 9, 1940, during World War II. After his father left, his mother gave him to his aunt and uncle. In school, he was miserable. He was extremely intelligent but hated the conformity and his teachers. Later on, Lennon attended the Liverpool College of Art but dropped out for the same reasons. In art school, he met Cynthia Powell, who became his wife, and they had a son, Julian. It was during this time that Lennon devoted his life to music after hearing American rock 'n' roll greats Elvis and Buddy Holly. He started a band with Paul McCartney and George Harrison called the Quarrymen, which later became The Beatles.

During the early years, the band played small gigs in bars and clubs. It was on a trip to Hamburg, Germany, that they started gaining fame. They replaced their original drummer with Richard Starkey, a.k.a. Ringo Starr, and released their first album, "Please, Please Me," in 1963. Beatlemania had begun.

The band began touring England and America, and was constantly pursued by fans. Over the next seven years, The Beatles would release 13 albums. Lennon and McCartney's songwriting partnership became legendary. During the later years, Lennon increasingly used psychedelic drugs and was in and out of rehab. He also met the love of his life, Yoko Ono, and Cynthia divorced him. By this time the band was falling apart and Lennon and McCartney were disagreeing about everything.

By 1970, The Beatles were finished and Lennon moved to New York. In 1971, he released the solo album "Imagine" to much acclaim. The next year brought the extremely political album "Sometime in New York City," which addresses racial issues and denounces chauvinism. Lennon by now was steeped in left-wing politics, going as far as giving donations to Trotskyist parties.

Lennon transformed into an antiwar activist during the Vietnam War with the song "Give Peace a Chance." His inspiration came from Bob Dylan, another singer and war protester. In 1972, Lennon toured the U.S. to influence youth to vote against the war, against Richard Nixon. The Nixon Administration found out and tried to deport him.

Other examples of his antiwar efforts were the "bed-ins for peace," where Lennon and Ono would stay in bed shrouded in white promoting peace with signs reading "Bed Peace" and "Hair Peace." Lennon and Ono also wore white bags over their bodies, satirizing prejudice and stereotypes. They funded billboards all over America denouncing war.

In 1975, Lennon's second son, Sean, was born.

On December 8, 1980, Mark David Chapman stood in the shadows near
the entrance to Lennon's apartment building. Lennon and Ono were returning from a recording session, and as they approached the gate, Chapman shot him four times in the chest. The police arrested Chapman, who did not resist, and rushed Lennon to the hospital, where he was pronounced dead. This news shocked the world. Thousands of fans camped outside his building and paid tribute by playing his songs.

John Lennon is my hero for many reasons. He took action against war and racism, and denounced oppression and violence. He fought for many things I believe in. I am also a huge fan of his music. His lyrics are meaningful and heartfelt, not shallow and repetitive like much of today's music. He wrote music for the world, not for money. John Lennon has inspired me to speak up for what I believe in. He is also an artistic inspiration. If he were still alive, I think the world would be a better place.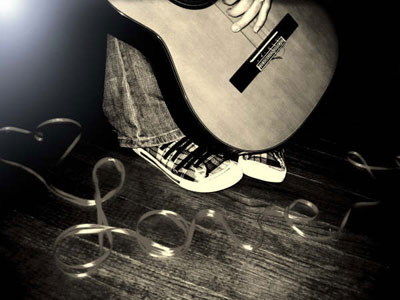 © Leah C., Grand Island, NE