The Home of the Brave
October 4, 2017
This country was built on the sacrifice, bravery, and honor of men and women. "The nation's desire to remain the land of the free only so long as it is the home of the brave" (Elmer Davis). The right to fly the flag on cars, houses and before events. We can fly the flag and be free because of characteristics the of a patriot, sacrifice, bravery and honor.

Sacrifice. With freedom come sacrifice. I realized what sacrifice meant when I visited the WWII and other memorials in Washington DC four years ago. Here, I opened my eyes and looked at the lives taken. The graves of those who passed away were as bright as the sky. Walking through the museums and around the memorials, I saw the names and read the stories about sacrifice.

Bravery. My grandpa was a mechanic in the Vietnam War. He tells us, his grandkids, all the time "be thankful for what we have and appreciate what people did to get it." He has seen it all. From shot down planes and cars shot up to the strongest men falling apart. He was putting others lives before himself, at the same time helping put people back into the fight for our country.

Honor. Honor is fighting for what you believe in and fighting with your brother by your side. It could be a friday night football games, bone crushing plays and helping a brother up or the constant battle our men and women are thrown into to defend the rights this country. Shot after shot the men and women fight for each other. That is honor to me.

Patriotism is the home of the brave. It is the sacrifice of all those who have fallen, the bravery of one man, the mechanic, and the honor of brothers and sisters who fight for the USA. Our country will only be free as long as we have people willing to give everything they have. We have seen these people in the past now it is our job to keep fighting for what is right and show the patriot inside of us while fighting for the USA.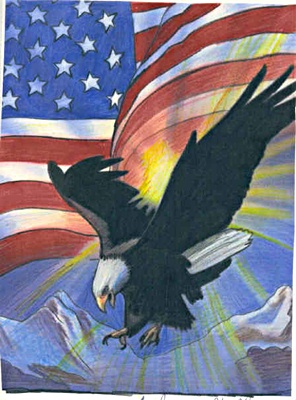 © Andrea G., Middle Village, NY