Instilled in Me
November 12, 2009
Reading has always been something great and wonderful to me, a way to escape to a place unknown, a place without boundaries. I was learning to read even before school and had more books than I had toys. It was my granny who instilled this love of books in me. She would always say I would gain more from a good book than all the toys in the world. She was always there to open up that door to a place where the world was great and magical.
Most of the memories I have of her, even as a young girl, are of her with a book of her own, sitting at the table or in bed reading one of her romance novels that were "too old for me". I would bounce into her room every other weekend with a book in hand, almost always Heidi, excited and ready to hear about Heidi and the goats as if the story had changed from two weekends before. She would sit down her book and smile at me as I climbed into bed and began to read.
"On top of a mountain in the Swiss Alps, Heidi lived with her grandfather," she would begin and once more I was enthralled. I always got worked up when Heidi was taken away from grandfather even though I knew Heidi would be going back to him.
"Granny, what was wrong with Clara?" I would ask after looking at the frail girl lying on the couch.
"She's an invalid, sweetie," Granny would tell me and I would shake my head even though I hadn't the slightest idea what an invalid was or how that pretty girl in my book could be something that sounded so awful.
Then the reading would begin again, "Heidi told her over and over again about Grandfather and Peter and the merry goats and the great fir trees." I was always so happy when Heidi was returned to the Alps she loved so well, when she once again got to hear the wind in the fir trees. By the time the short story was over I was near sleep and I would have dreams of playing with Heidi and Clara in the Swiss Alps.
The more and more the story was told to me the more I memorized of it and after awhile I would recite the words with her, "And every day, at least six times a day, she said to her grandfather, "We must bring Clara up here. Here Clara will get well and strong."
"Why do I even have to read this to you anymore? You have the whole book memorized," she would say many times.
"Because, it's better when you read it," I would reply. She would laugh and continue reading and I would continue reciting.
One year I can remember her taking me to the book store to get new books. I picked out two touch and feel books and The Nutcracker. As soon as we got back home, I wanted them all read to me. I couldn't wait to be able to hear about the fuzzy animals, but even more, I couldn't wait to hear about the nutcracker that would come to life.
"It was Christmas Eve and Marie and her brother, Fritz, could hardly wait for the party to start…"
My granny's strong voice began the story and I began to take a fabulous journey through a Christmas night filled with Sugar Plum fairies and a terrible mouse king. It was a story I never forgot and a memory I'll cherish forever. Even to this day, when I see a Nutcracker, I am thrown back in time to when my granny told me the wonderful story.

It was when I started second grade and began reading chapter books with ease that our ritual of Granny reading to me every other weekend ended. It was then that I no longer needed it and thought it was a great thing that I could read for myself without her aide. I would go to my own room and sit for hours with a book of my own and relish the fact that I no longer needed help.

It is now that I sit and look at the books from my past that I mourn the loss of that childhood indulgence. It is now that I remember her reading's and wish I could have her reading to me now but I would feel silly if I asked at sixteen.

She grew in me a great love that will stay with me all my years on earth and helped me to find a great world I may have never discovered. She has shaped me and helped me in so many ways and this is just one of those many ways and I'll never forget and miss those nights when she would open the doors to the far off and wonderful places in my storybooks.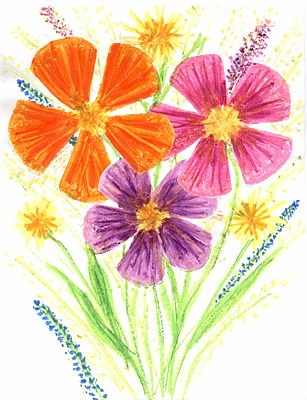 © Marissa M., Rockford, MI