Countdown.
December 8, 2009
There he was. Sitting on the same couch as he was last year when I had met him. Socializing with anybody and everybody near him, he was loud and annoying until you got to know him. He was hilarious and cute and smiled the second he saw me walk into the room.
He got up off of his couch, and walked over to me. He hugged me. Despite the fact I hate hugging, I returned the hug. His was warm and much anticipated for the last seven months.
When he let go, I walked away. Back to the stairs that had led me into the TV room where twenty other teens were crowded around the plasma television watching the Yankees spank the Mets in the Bronx.
"Hey- where you going?" He called after me, running to catch up with me. I ignored him, and kept walking. I was already working my way up the steep stairs to the dormitories that housed summer campers like us.
I waited at the top of the stairs, holding the door open. We went through and saw the two halls of rooms for frat boys during the school year. During the last week of June, however, it was our playground.
The hall was empty. A few doors were slightly open, but you couldn't hear anyone. Everyone was downstairs, watching the baseball game.
"Your room is where…?" I trailed off.
He took my hand, and led me down the hall. We passed my dorm, but his room was conveniently across the hallway and to the left. I knew it would be easy to hang out at night, like we always did.
"This is my room. I have no idea who my roommate is- they aren't here yet. Where's your room?" He asked me, looking down the hall for others.
"Here, I'll show it to you." I said. I let go of his soft hand as I fumbled for my room key. I finally found it, and unlocked my door.
I'd already unpacked- all my supplies needed for camp were on the desk, along with my i-Pod speakers and other odds and ends. My clothes hung in the closet, my shoes next to it. My bed was made and it looked as though I lived here.
It'd been twenty minutes since I'd been in my room- I noticed my roommate's bags were laying next to the vacant bed.
"Haha, you've already moved in. I barely unpacked…who's your roommate?"
"I'm not sure- I bet it's Natalie."
Natalie was a counselor and the only other girl who stayed at the camp over night. She had been my roommate last year and was great.
He walked out of the room, and I followed. He went back into his room. I still, of course, followed.
"This week is going to be great, love." He grinned. "Love" was his nickname for me.
I nodded and smiled. We both sat on the edge of his bed.
He touched my hand. I grasped it. He was looking down on the floor, his feet barely touching it. He wasn't that short- the beds were incredibly tall.
"So…" I said, waiting for him to say something.
He never did.
Sitting on his bed, he scooted closer, and kissed my cheek.
"You're the only guy I've ever kissed, and even I know that you're supposed to kiss on the lips." I said sarcastically.
I think he said something like "smartass" under his breath, but he remained silent as his lips touched mine.
By now, my blood was rushing. My mind was going crazy with a million thoughts. My heart was beating twice as fast as it should. I had those butterflies he gave me every time he called me "love" or said he loved me.
He kissed me. Sitting on his bed at a sports camp in some women's college in Baltimore, he leaned over and our lips touched. Our heads were tilted, and I swear, time stopped. It felt like tonight, we weren't going to sleep and wake up tomorrow morning. It felt like his roommate would never walk in. It felt like we were the only people in the world and could take our sweet time. I could go on making a million analogies to explain it was a feeling like no other.
It was absolutely amazing. It lasted for several minutes, until we just stopped. No reason. We pulled away, both with huge smiles on our faces. I wondered if he felt the butterflies, too. Or anything, really.
He was right about to open his mouth and say something. My mind raced as I wondered what he was thinking. He was still smiling with his dark curls framing his face, his eyes looking straight into mine.
I thought about how for seven months, I'd anticipated the week I'd get to spend with him at camp. About how many dreams I'd had, how many times in Algebra I'd zoomed out and thought about what I'd say and what would happen.
I rolled over in my own warm bed, two hours from that college in Baltimore. I sighed, and marked another day off my countdown calendar to camp.
Just another dream.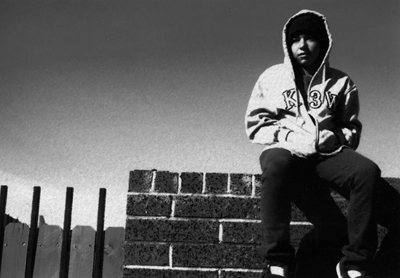 © Stan G., Phoenix, AZ