My Self Audit
December 11, 2009
My Beginning As a Writer



Writing, especially creative writing is magical; it is self expressive, passionate. Every writer at sometime, must have realized the wonders and relaxation that comes with writing. There is something almost spiritual that I feel when I writing, I feel free, and I can say whatever my heart tells me to,



I can remember when I was younger, about five or six; I would pretend that I was a popstar. I'd dress up and sing in front of the mirror with my hairbrush and I'd dance around and have loads of fun. I got bored of singing the songs that other people sang, I wanted to be original. I would make up my own songs, but I'd sometimes forget what I was singing so I started to write them down, thus my starting journey as an aspiring writer.


I'd show the lyrics to my mother, she'd smile and save them. I was really grateful that she liked, or pretended to like them. She would always encourage me to write more. My dad was also encouraging when I first began writing we used to write together, we'd write something exchange it an we'd talk about it. Both of my parents know my desire to publish a book that they have been encouraging and supportive ever since. Mother has refreshed my memory about the first time she has ever remembered me writing, it was a love letter to my kindergarten crush:



"Dear Njeri,

I love with even tho you love another girl. I am going to marry you. I love you.



Camrica"

That was my first love letter but certainly not my last. My mother hid it from me so I couldn't have a chance to give it to him. L



The Teacher That Has Helped Me The Most





As a growing writer I have had a lot of help from teachers, many of which were inspiring, and connected with me on a more personal level than others might have. Mr. Moncreiffe would have to be the teacher that has helped me the most with my writing. Every two days or so, my classmates and I were set circumstances that he gave us to write about. He helped to widen my vocabulary and situations that I could put to pen and paper. He is a very pleasant and playful person. He is easy going, if you get on his good side. He is sincere and cool and he can be very relatable.



Camrica-The Reader



Camrica is a brilliant girl and most of her brilliance is acquired from reading. She has a thirst for reading that is no where near being satisfied. She fancies intriguing, compelling, titillating mysteries and dramatic stories and she is more likely romantic tale as well. She also enjoys spine tingling stories that makes her scream into her pillow, she loves the feeling of suspense and apprehension.



To this marvelous individual reading a story is like watching a movie, but better. Bedtime is at ten o'clock but she restlessly stays up for hours because a book was just to amazing to put down. Once she stayed up until three in the morning to read the end of a novel. She will try to close the book for she knows how important sleep is, but her heart won't let her. Reading is more that words and sentences, to her it's a journey that she takes through a writer's eyes.



She has started reading from a very early age, younger than most and she just kept broadening her horizons and trying different books out. She has been regaled by fictional books, autobiographies, biographies and believe it or not even history books. Her favorite writers are Shakespeare and Lemony Snicket. She finds them both absolutely breathtaking. There are many other novels that she just adores, of course but some authors haven't touched her heart the way Shakespeare and Lemony did.



Am I Willing To Share?



Sharing is something that I usually do with candy. With writing sharing is so much different. There is an indescribable feeling when I write something and I hear the words come out of my mouth or someone else's. I feel self-conscious, like everyone is judging what I have written, but I also feel great and accomplished. I am usually too shy to share my work with a large group of people or people that I have just met. If and when I do share I might share it with my parents or my closest friends.





What Makes Writing Good?



What makes writing good? Hmm, I guess it's the magic one feels when they write, it's the ability that you can get when you express yourself. In writing you control the pen, you are the master. For me writing is therapy, it eases my mind.



The sensational Shakespeare takes me away. His stories were more than just stories; they were a work of art. My favorite books of his would have to be The Merchant of Venice, Macbeth and Twelfth the Night, or What You Will. I began to love his work in the fifth grade. I fell in love with Shakespeare. He takes literature to a whole new level. He is a great writer, this might be because of his ability to capture a reader and hold them under his spell. The way Lemony Snicket uses his words, it's enchanting. I just can't get enough of his books. What makes their writing great is their way to fascinate readers, and take them on a fantastic journey. Writing is good because it's original and creative.



I absolutely love to write poems and stories. It's a wonderful way to pass time and relax. I can create my own little world where I can escape to at anytime I wish. I can explore new depths and soar to new heights. I can make people see the world as I see without the pictures.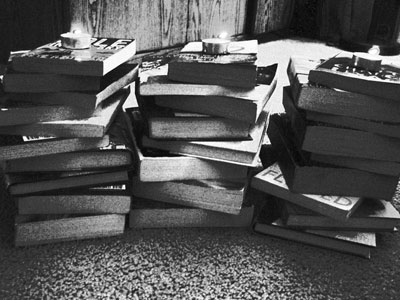 © Alexis R., Clarkdale, AZ