It Was
January 25, 2010
It was twelve days. It was two hundred and eighty-eight hours. It was seventeen thousand, two hundred and eighty minutes. It was one million, thirty-six thousand and eighty seconds. It was the remembering. It was the forgetting. It was the waiting. It was the elephant in the room. It was the not speaking. It was every thought that ran through my mind. And it was the scare of my life.

I was focused on the world outside of the car when I got the news. When his lips parted, words came fumbling out. Words that turned into sentences. Sentences became a paragraph. And I never thought or imagined that that paragraph, those sentences and all those words would be said to me. That my dad, my hero could have cancer.

At first the impact did nothing to me. It just sat there in the back of my mind waiting for a reaction. But that reaction didn't come for quite sometime.

I must have been in shock. A shock that me kept me locked up in a cage away from emotions and feelings. Something I haven't yet become accustom to. Soon I learned that in a world with no emotions turned into loneness, an empty feeling poured into my pores and expanded inside my body, drowning out everything until I was nothing.

That weekend came and went. It was filled with running errands and doing chores while wearing fake smiles and awkward laughs.

By the time school came around I was as ready as I ever could be. It seemed to last forever, trying to concentrate on school. By the end of my school day a few of my friends knew and all my teachers knew. Yet no tears, no screams. The feeling of nothing filled me up and killed my other emotions. Again, I was alone all over again.

And I was hurt. But this pain was like no other that I could have ever imagined. A pain that couldn't go away. No matter how hard I tried, no matter what I did the pain was eating me alive. I would have rather someone hit me. Hit me with a bat and bash out my brains. At least it would have been over with.

I felt as if someone was pushing me lower and lower beneath an ocean so I would drown. And that's what I what I was doing, I was drowning in worry. All I could think about was one day my dad would come home to say,

"Mckenna, I am dying."

In my head that's all I could hear. It screamed so loud it rattled my brain. But even so, I kept to my self in the darkness of my shell.

Until it happened, I couldn't stand it any longer. So I talked to one of my best friends, who along the way of my experience, was there through it all and helped me more then he could ever begin to believe.


And as we talked he mentioned to me that a way to get my emotions to come out that I should talk to my counselor and then afterward that day we could sit down and talk all about it. But talking about seeing the counselor and actually doing it was easier said than done. I even bailed on the idea; I wasn't going to talk to her. But surprisingly she approached me and told me that one of my teachers was worried about my family problems.

Later, as we began to talk about everything that was going on and all the outcomes that could happen, my strings that kept me together began to break. Seam by seam they broke in half and tears slid down my face. The numbness that had filled my body before, just seconds ago, filled with feelings. Not all good, but not all bad. And if even just for awhile I could be somewhat okay, it was worth it.

And those twelve days, those two hundred and eighty-eight hours, those seventeen thousand, two hundred and eighty minutes, those one million, thirty-six thousand and eighty seconds were the scare of my life. But writing this, reliving this all over again is the hardest thing I've ever had to do.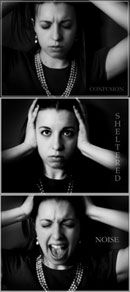 © Michelle B., Blairsville, GA