If I Die Now, I Die Happy
January 29, 2010
For 16 years of my life, she lived across the street from my house; her house even had a room especially meant for me and my toys. I grew up in that house, spending the night over the weekends when my parents had to work and crossing the road there to borrow the occasional milk and eggs when we ran out of them in my own home. I watched my grandmother age just as she watched me grow up. For me, it had always been a mental fixation that she would be there when I got my first car, when I married, and when I gave birth for the first time so that she could take care of my child, just as she did for me.

Life comes and goes as it pleases. It is short, and it is unexpected, and the best thing we can do with it is live it without regret. This chapter in my life brought me to a newer level of understanding: I learned to make the most of the little things we tend to overlook, I came to realize that the most important thing is putting the ones you love before your own self, and I developed a more positive outlook on life itself.

It was the week of Chinese New Year, and it was the first time I had to celebrate it within the gray and confining walls of a hospital. We had brought with us a red envelope and New Year's rice cakes as gifts to my grandmother. She accepted them gladly and ate without hesitation. It was apparent she wasn't all too fond of the provided hospital food; she gave me her steak and mashed potatoes to eat in exchange for the Chinese desserts. I sat in the corner, watching her eat: she was seated upright on the bed, attached to tubes hooked to machines and looped through the bend of one arm and around the ankles of a leg. Despite, she laughed joyfully and mingled with all her visitors. At this I thought to myself, Maybe she'll still be able to come home and celebrate the New Year with her eight grandchildren next year. Maybe.

I heard her say to her friend, "That's my favorite granddaughter over there. She's tall, isn't she?" She gestured in my direction. "She takes very good care of me. I know for a fact that my love for her was very worth it." Jokingly, she said to me and to her friend, "If I die now, I die happy." At that I knew, whether she meant it humorously or not, time was running out, so I put my heart and energy into laughing and chatting with her, spending and enjoying the little moments we had left together.

It had been a week since I'd last seen her. I woke up that morning to my mom walking into my room, tears streaming down her face. She was choking on her words, "They said it was dangerous…dangerous…the doctors said that she was in a critical phase and that this operation might be a 50 percent chance… it's dangerous." She asked whether or not I wanted to visit my grandmother in the hospital that day. I told her no. As much as that answer was a lie, as much as I so desperately wanted her eyes to meet mine again, a part of me was afraid. I was afraid of watching my grandmother leave before my eyes, making that the last memory I have of her. The final image. I wanted to keep her smiling face in my mind; I wanted to hear her laughter from our New Year's celebration the week prior.

That night, I decided to visit her at the hospital. I remember walking down the long and empty hallways, taking the elevator up to her floor, and walking through the doors of ICU to her room, expecting a warm welcome. The moment I caught sight her, the tears welled up; seeing her like that was frightful. She was asleep, shuddering once in a while, breathing very heavily, and lying attached to so many tubes and pumps that I couldn't tell where they began and where they ended. All there was to hear in that small room were the rhythmic beeping patterns of the machines, her heavy wheezing, and my mother's and sister's weeping.

I couldn't bear to stay in that room any longer, so I walked out. I walked out praying that she'd be taken safely and peacefully. Most people would have prayed for a life-saving miracle, for their loved ones to be healed, but I couldn't bear to watch my grandmother undergo the medications, procedures, or hospital checkups anymore. I wanted her to be free. I didn't want what I thought was best for me; I loved her enough to let her go.

"She's gone." The day my mother spoke those words to me, I felt like there were a thousand needles stabbing at my heart. She picked me up from school and the moment I entered the van, she told me. I just sat there, frozen and dumbstruck, slowly putting the words together like a puzzle. She had battled her cancer for more than two years, and she had visited the hospital enough times that many of the workers were already familiar with her. Now, after two years of unending pain and patient endurance and, above all, survival, she was simply gone.
We drove directly to the hospital where our family members and her friends were gathered for a small ceremony. A Buddhist monk came in to recite some prayers and blessings. Lying on the bed was my grandmother, still and resting in eternal peace. The thoughts in my brain swirled out of control, and the emotions I experienced ran through me like tornados and waves crashing all at once. I felt like my heart had shattered into a million tiny pieces. I felt remorse and regret, happiness and thankfulness, sadness and relief, confusion, disbelief, exhaustion, and everything else. I sat in the middle of the room crying uncontrollably, hearing the monk hum his spiritual words all the while. My mother whispered to me, "Don't cry. They say that her soul can still hear you, and if she hears you crying, her soul will feel reluctant to leave the body."

There are so many things left unsaid, left undone, that I will now never have the chance to accomplish. But I feel very lucky to have known my grandmother. I've come to accept the fact that she's gone, even though it feels as if her existence is still with me, and even though I sometimes catch myself thinking that she still lives in the house just across the street. I feel no regret that she has left us, because I know that she died happily. Thanks to her, I've grown to appreciate the little things in life, to know what it's like to put those you love before yourself, and to look at life with a meaningful understanding of just how precious it really is. I know for a fact that my love for my grandmother did not go to waste, just as she said hers did not go to waste for me.

She passed away on February 10; only four days before Valentine's Day. If she had only just lived four more days, I would have been able to give her my painting and card; I'd spent a week perfecting it, hoping to give it to her on the national day of love. I wanted to say those three words I was always embarrassed to say to her when I was a kid. I wanted to say, "I love you". And although I never got that chance to tell her, I think I can have the peace of mind that she already knew. She already knew, and she loved me endlessly, and she was happy.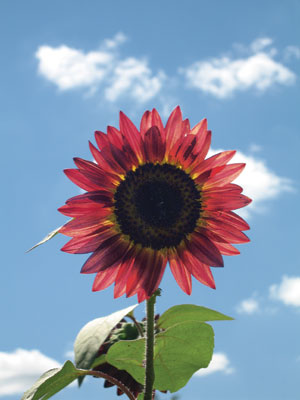 © Lydia N., Greenfield, IN