Fitting In
October 1, 2010
One more time I feel it. I duck my head, trying to ignore her, but she just won't disappear. I glance up again and get "the feeling" in the pit of my stomach. She's perfect. A ten by the world's standards. Her blonde hair flows down just past her shoulders, straightened to show off the freshly dyed roots. Her face is a perfect masterpiece of make up, from the thinly applied eye liner to the shimmering lip gloss. She's wearing beautiful silver hoop earrings and her clothes look like the just came off the runway. She perches her petite figure on stiletto heels but never wobbles for a second. As she walks towards the check out counter, her arms piled high with no doubt expensive purchases, I find myself doing it again, feeling it again. I'm comparing myself to her, trying desperately to find one reason not to envy her, but I can't do it. When I fall short one more time the knife twists in my gut and the feeling of inadequacy falls over me like a cloak. I laugh it off, mentally joking about the influence of "the preps" as I call them, but the laugh sounds forced and the sarcasm comes back sounding hollow even to me. The flimsy sheet of humor I throw over my insecurities to try and hide them is beginning to wear thin, but I don't know what else to do. So I chuckle one more time, trying to not let myself fall into the web of head games all girls have going on.

But I can't help it. I reach up and feel my face. The soft, maybe too soft, skin of my cheek meets my fingers, and I feel the lack of foundation, or make up of any kind on it. I glance in the display mirror and notice how my face is too round, my hair too stringy and wavy, and how badly my mascara and quick coat of white eyeshadow are applied compared to the blonde beauty's. I notice my plain sweater, not even considered last years fashion, hanging too tight in some spots and too loose in others. I finger the fabric, remembering how nice this shirt had looked in the Goodwill store where I bought it. I had taken such time trying to make my twenty dollar budget stretch as far as it could go while still buying the best the thrift store had to offer. I thought I had done well, but here in the glitz and glamor of the mall my clothes appeared to be number one on the fashion don't list.

I glance down at my light wash jeans, which I inherited from my sister some two years before, after she had already had several years of wear out of them. They are definitely not the latest fashion, and the sad thing was these aren't even my "laundry day" jeans. They're one of my best pairs. I glance up at the blonde one more time, seeing the cashier ringing up her purchases. The blonde swipes her card and collects her bags, moving swiftly through the store, already reaching for her jewel-covered cell phone as it began to play the latest Lady Gaga song.
Swallowing hard I watch her leave. Does she even know how lucky she is? Could she even imagine my way of life? I sigh and turn back to the racks, carefully looking through the clothes displayed there. Too expensive. WAY too expensive. Ugly. Not my style. Too small. Too out there. I hate this. I hear a loud giggle and turn around. Great. Three cheerleader types, gorgeous in every way possible, walk in. They laugh loudly over a text message the dark-haired one just received from her boyfriend. I hear their conversation, peppered with "like, oh my gosh!" and "SHUT up! Whatever..." and don't know whether to smirk or sigh. I look at their tiny waists and decide to sigh.
"Nothing like a mall shopping trip to boost your moral," I mutter to myself, rolling my eyes. Deciding I cannot possibly buy any of these clothes without blowing my entire week's allowance of twenty bucks, I walk to the counter with the one thing I still have left in my hand, a pair of earrings which were on the clearance rack. I lay them on the counter, offering up a quick smile to the cashier before looking away. Even the cashiers here are perfect, perfect hair, stylish clothes, tiny waists, wonderful make up. An ache settles in my chest. One more time I have to accept the inevitable truth. I will never be them. I will never be that girl. I will only be who I am and nothing more. Maybe, just maybe, it's time to forgive myself for that.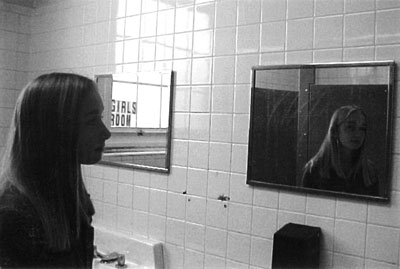 © Jill H., Pompton Plains, NJ