Wind Chill
March 18, 2011
It was warmer than usual yesterday, though today the wind returned, reminding us to leave behind the pick-up basketball games and sagging hoops, leave behind the freedom of running around with a frisbee, leave behind the carelessly kept lawns with snow just beginning to melt. The chill sent everyone back indoors; back to hashing out daily routines and schedules, back to the busy to-do list that is life.
I was a poet in a prosy world today, yearning to be free, to break out without really rebelling. It's an interesting place to be.
I sat back from my computer, wondering what in the world I was doing with my life – suddenly everything just seemed so insignificant. It just takes a moment to think of something great, something wonderful, something beyond your capabilities – and the rough layers that cover your true nature fall away. You want to be that dream, that ideal – and what are you doing with yourself? Nothing, nothing at all. It's just such a waste.
As everyone returns inside, chilly, cold, crisp – I pick up a well-worn volume of poetry, stepping outside into the biting, brisk wind.
The pages are reddish-yellow, many torn on the edges. The spine is ripped; the book itself smells like an antique library. I love it dearly already, though it's the first time I've actually seen it in this house, oddly enough.
The wind whips my cheeks. My instinct is to turn away, to either go back, or at least to draw myself tighter into my sweatshirt; instead, I throw my hair back and broaden my shoulders, accepting the wind, the chill, the cold – challenging it as I seat myself on the wooden deck.
For forty-five minutes, I am lost to the world, entirely. It begins with Chaucer – then Spenser – then Marlowe – then Raleigh – then Shakespeare – oh! the wonder of it all! Who could have thought – in this suburban world of cookie cutter everythings, of plastic faces and metal hearts – that a young girl like me, in sweatpants and a sweatshirt, her hair mussy and unkempt, could find such release in words, in poetry? The world shrinks, opens, brightens, dulls – hearts mend and break and fall again. Heroes trip and get back up, dusting themselves off. Shepherds woo nymphs, who in turn reject their worldly advances. And I, simple girl, am transformed into a master poetess. These lines cannot merely be read with eyes. They fall from my lips, smoother than glass, sharper than diamond – refined, vulgar, rhyming, jarring. They strike every chord in my heart – sorrow, pain, love, joy, ambition, lust. I am not ashamed of the feelings that flow through me, as my life's tapestry reweaves itself, more brilliantly than ever before. Music fills me – and art, and dance, and song, and literature.
I hear the tapping at the window, know they are calling me back inside, back to the worldly objectives of this day, and the next, and the one after that. And yet, somehow – the restlessness that filled me before has given way. Poetry, the tempest of the heart, leaves room for nothing else; even when calmed, it rages in a corner of the mind, subdued and yet subduing. It controls emotion and yet lets it out – the oxymoron to top them all. For the moment, though, my poetic mind is no longer troubled by the world's prosiness.
Smiling slightly, I stand up.
Gently shut my book.
Open the door as the wind bites me one last time.
And step back inside.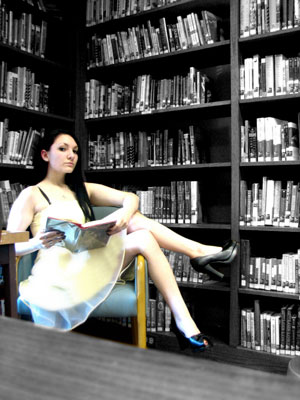 © Jessica F., Bradford, MA