Running with Glowsticks
July 1, 2011
As a child of eight, it was painfully obvious that I was an introverted, quiet child. Often, I would come into a room, sit down, and then be acknowledged five minutes later as the person would turn around and gasp, "Oh! Alix! I didn't know you were there! I didn't hear anything!" I have heard that I would sit in a corner and refuse to talk in preschool. Frankly, it would take an extremely excitable person to get me out of my shell.

Enter Monica* (name changed)—my best friend—a girl I met at eight years old at the ice rink. She was a wild child, with thick curly brown hair and long lashed, lively eyes to match. Monica was a chubby kid with a puffy face, and it was her ceaseless energy proved to be her downfall… and her best quality. She couldn't stay still to save her life. By eight, Monica already had broken two wrists and an arm. If she wasn't sleeping in her Barbie sleeping bag—usually forced by her mom—she was in the ice rink running around with a Barbie in one hand and her Sailor Moon wand in the other—usually barefoot.

Monica never seemed to tire. I remember that she would always tell me, "Come on, Alix! Let's go do something! Let's build a Barbie mega-city! Bakery here, my hotel there, your townhouse there, my glam 'n jam here, my Barbie's car here, and your Barbie's car… over there." This would later end in the destruction of the rink's locker room from the sheer spread of Barbie mania.

One day in the summer, after finishing my practice for skating early, I had asked my mom to stay with Monica as her sister continued practicing. After seeing the new glowsticks dispenser and receiving a few quarters for candy, we decided that we needed glowsticks—now.

"I want a pink one," I had told Monica when we were standing over the machine. I was eight years old, after all, and pink was my favorite color.

Unfortunately, pink was also Monica's favorite color. And she always got her way. That was the unwritten deal we both agreed to have—she would lead me to spectacular adventures, but I had to go by her rules. As she once said, she was the "millionaire" and I was the "thousanaire."

"No, Alix, I want the pink one," she said, just as the glowsticks came out of the dispenser. Monica opened the package. She threw the glowsticks to me when she found out that they were blue and green.

Hoping for a pink glowstick, I inserted my quarter into the dispenser. Out came the box; I opened it. I got a pink and a green glowstick, but before I could crack it open and parade my glowsticks around the rink, Monica took the glowsticks out of my hand and began waving them around.

"I want a pink one," she said. "Can I have it?"

"But… but it's my money!" I had cried. "Why can't I have it?"

"'Cause I'm the leader," Monica said. "And I know what we should do with these." Not wanting to complain, I took the role of the follower and silently handed the glowsticks over to Monica. Without another word, Monica grabbed my arm and we ran upstairs. I quickly forgot our minor spat. We ran through the back door of the ice rink and up the stairs to the upstairs hallways. I stopped for a second when we passed a locker room to watch the skaters on the ice. All beautiful skaters. Their fourteen and fifteen years seemed so much older than our eight years. But, I thought to myself, they weren't the ones having fun, were they…

Monica yanked my arm in the middle of my thoughts. "Let's go. We can't waste time." She cracked open the glowsticks. Glowing neon light poured out of them. She flicked off the light switches for the upstairs hallway, turning the already dark hallway pitch black. Usually I was scared of the dark… but not now. I guess the thought of going with Monica changed my mind.

Instead of fear, I felt a rush of excitement.

The light on Monica's glowsticks had begun to bounce farther away from me; I realized now that she was running away. I ran after her, my glowsticks also dancing. Our giggles bounced off the walls.

I remember passing an office on that hallway. I did not see the man's face from within, but I knew that he wasn't happy about the noise and distraction that we girls were making. Although I heard him yell, "Hey! Turn the lights back on, kids!" Monica and I ignored him as we ran down the second half of the hallway. We were still laughing and waving around the glowsticks.

After all, we were eight years old, weren't we? I was done with skating that day and had no school—home-schooling made my schedule flexible that way. I was ready for fun, fun with the girl who knew how to have a wild time.

Now that it's been nine years, I know now how I was lucky to have someone like Monica. I guess I thought of her like my comic relief, my gateway out of the skating world. Even if she was bossy, I forgave her because she knew how to have fun. She was the girl who brought excitement and she taught me a valuable lesson that day—each day is precious, and you should enjoy life as if it was going to end.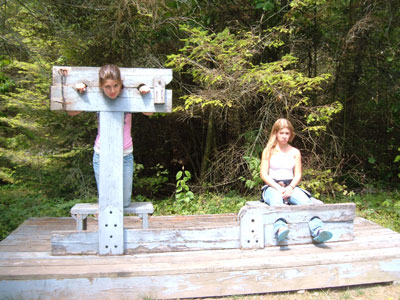 © Hilary L., Rogers City, MI