Reborn as Snowy
January 5, 2012
It started with a drop of hope and a dash of snow. Never in a million years did I imagine I would come in to this world, a place that was far too advanced for someone like me. I felt that the people of this planet didn't need me in their lives. I felt pathetic and useless. But with each handful of sheer white, my spirits rose. Strength built inside my core, flourishing more and more every minute. My determination burned like a passionate burst of fire. Maybe I was small. Maybe I couldn't speak. But I saw the world just fine, not with my eyes but with my heart and ultimately, my one wish worked its way into reality.

The majority of my life had been spent in the heavens. Like always, I go where life wants me to go. I follow the wind, a force that has taken me to various exotic locations, each with unique and distinctive features. Every year, I take on a new life in a different region of the Earth. My very first year was spent in Paris, France. The miniature sparkles of the sky shimmered down on me, descending from their home above all the way down to the Eiffel Tower, where I sat waiting for them. My next favorite location was Tokyo, Japan. The few days I was there, I remained on a small valley, overlooking a metropolis full of lights, which shone brighter than the Northern Lights themselves. Over the duration of my lifetime, I have found myself experiencing the sights, smells and colors of some of the world's most treasured destinations. Rome, Moscow, Mumbai and many more; I am an international adventurer.

But my latest stop has been to a city that greatly differs from my past experiences: Kalamazoo, Michigan. This was my first time in the United States of America. I was created very early. For me, a new year brought a new journey. I was just enjoying myself, taking a long rest, hidden by the white snow. This time, I honestly thought my sleep would be eternal. I've traveled to my heart's content in the past and slowly, I thought my days would come to an end. The clouds from which I came from moved slowly in a horizontal motion. For some reason, I thought they were mocking me. While they floated high with might, I was forced to adapt to life in an earth bed, under the horizon line.

Suddenly, I heard the pitter patter of feet and a soft voice. A young, teenage girl with a crimson coat headed in my direction. She walked straight past me, returning with a handful of snow. She sat down on the ground and began adding on more snow and smoothing out the sides every minute. Ultimately, a giant sphere had been mounted on the ground. I watched the girl. Her face was hidden with a hood and cap. The only feature I could point out was the girl's glasses. As the air became tainted with icy zephyrs, the girl let out cold breaths. Despite her discomfort, she continued building. The snow was hardening and the girl had to move farther away to gather more snow. I felt rather sympathetic. I wish I could be of assistance to her but it was impossible. One thing that had never changed throughout my life was my immobility and feelings of being helpless.

My tiredness had dissolved away, like some of the snow was starting to do. I couldn't take my eyes off the girl. My curiosity got the better of me. What was she doing? The sun had started to go down and all around I saw tangerine lights being turned on. The wind had also picked up a little. From my understanding, the girl was almost done with what seemed to be a snowman. She had just grabbed two thin twigs from the tree behind us, using them as hands for her little friend. I rested my case. There was no way she would notice me in the midst of all the others. We were all identical to one another. Suddenly, the girl ran off somewhere. I couldn't get up so I couldn't see where she went. A few minutes later, she returned with a handful of rich, red berries. She placed them on the snowman, in a curved direction, creating a bright mouth. She used two larger ones for the eyes. At this point, the sky had almost been consumed by darkness; the same could be said for my spirits.

The girl took one last look at the snowman and began walking away. I turned away too. Then, a couple of minutes later, the girl returned with a note card. She walked straight towards me. She kneeled down, scooping me up in her smallish palm and carried me to the snowman. She set the note down on the snow. I couldn't exactly read the letters the way she put it. But everything from that point on turned my entire existence around. She gently placed me in the middle portion of the snowman, right at the heart. As I adjusted, the girl took the note card and put it in the snowman's hands.

I spread throughout my entire new body, releasing my warmth and spirit as well. I could feel a new, undefined strength blossoming within me. I looked all around with my round, red eyes. I could see perfectly now. The trees looked taller than before. The snow appeared whiter than ever. The lights seemed even brighter. The girl smiled at me and although she couldn't see it, I returned the smile. She stood there for a moment before heading in, as she should. It was dark. She said she would come see me in the morning. Good, I'll see you too. Her innocent gaze returned once more as she flashed one final saccharine smile.

It's true that this had been not like my past travels. There were no glitzy lights, fancy smells or striking sights. But I liked Kalamazoo. The scenery was natural and pleasant. I felt a peculiar but congenial bond with the girl, too. She was real and pure, building a snowman for the simple joy of it. She said she would have stayed out all night if she could, guarding her beloved snowman, something I had never heard another child say. She had no idea how much her kind words warmed my heart. If I could tell her anything, it would be thank you. I had sat in the snow that day feeling ignored as usual, until she came along. She gave me life. She gave me hope. Now, I didn't care where I went from here. I had gotten my wish, to be treated like I mattered, like I had significance and wasn't just another patch of snow. I now knew I was important and that there was someone out there who cared. That's all I wanted from the very beginning. I had been reborn many times in this world but this time would remain my favorite. I glanced at the note in my hand and read it clearly. It said: "Greetings Residents! Your friend, Snowy the Snowman." The girl was naturally caring, such a good girl. Better yet, I now had a name: Snowy. I closed my eyes and for the first time, I knew it would be a peaceful slumber.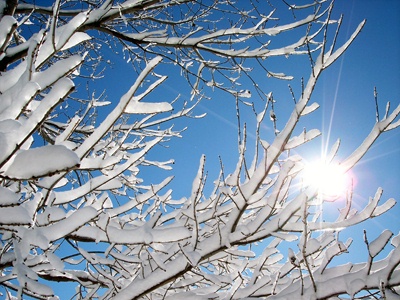 © Barbara S., Hoffman Estates, IL