Christmas Morning
December 21, 2011
I stirred and rolled on my side, vaguely aware of a tantalizing scent. As I sat up the fog cleared from my thoughts and I gleefully remembered today's date; December 25th, Christmas. Spinning from my bedside I scampered out of my bed, pausing to clutch the balcony that overlooked our high-ceilinged living room. The tree was nestled in the corner, pine needles standing erect for the special occasion. Flanked on both sides by cream, the deep green tree and its shiny ornaments seemed especially magical and indefinably special.

The best part of the scene lay under the tree, the bright packages that had hidden beneath its boughs for weeks. Santa's gifts lay on the couch in front of the fireplace, but although I loved getting the toys he brought the real fun lay in ripping off paper and watching others do the same. Santa never wrapped his presents, but my family always did.

Even from atop the balcony I could tell who had wrapped what. I spotted mine quickly, with their neatly folded edges and prim ribbons. Dad's were there too, bundled in vivid paper and stacked among the others amiably. Mom's were in subtler shades, always folded just so, and stacked in the corner. The ones Ethan had wrapped were most easily acknowledged; they seemed to consist mostly of tape wrapped several times around crinkled paper.

I scrambled down the steps, taking them two at a time, and letting the carpeting slip beneath my feet. In the kitchen Dad was making bacon, the delicious aroma that had woken me, and Mom was sipping coffee from a steaming blue mug. Ethan was sitting on a kitchen chair, hands beneath his thighs, shaking with anticipation. It was a rule that he couldn't wake me up before 8:30, a rule that proved difficult on Christmas since he woke up at 6 and couldn't wait to open presents. In the instant before he saw me and leapt up, diving for the living room, he looked a lot like a druggie jonesing for a fix; eyes wild and darting, lips biting, and legs kicking with a ferocity only previously witnessed in hyenas and some species of rabid dogs.

The whole family was still in their pajamas, another Christmas tradition. I had dressed purposefully the night before in my favorite nightgown, a purple cotton affair that had been gifted me the previous Christmas. Dad was in plaid flannel pajama pants and a T-shirt and Mom had slipped her robe over her similar attire. Ethan's outfit was amusing; since he'd been eager to go to bed, so Santa could come, he hadn't paid any attention to his attire. He was in tight-fitting cream pajama pants, printed with colorful planes, and a blue cotton shirt that had a friendly green dinosaur.

Dad didn't bother to scold Ethan for rushing away because, on the off chance Ethan could comprehend it, he wouldn't bother to listen. Instead Dad put the bacon on a plate, set it on the coffee table in the living room and sat in front of the fire, joined by my mother. My mother was always cold, no matter how many coats and scarves she piled on, in spite of the fact that we lived in Georgia, where it never fell below fifty degrees.

My mother had deemed it her primary job to deal Ethan his presents while we sat eagerly in front of the tree. Otherwise he'd be done in five minutes, with nothing to do but watch us open ours. My eagerness was equal to his, but I'd learned self-control already and I knew that spreading out the present opening would only heighten the overall reward. Besides, I liked watching other people open presents, especially those given by me.

With gifts opened and wrapping paper lying all over the floor the scene should have looked less magical, but as we gulped down fresh hot chocolate and sat in front of the fire talking and laughing it wasn't. It was the age of innocence, when Santa still read all my letters and checked his list twice, when I wasn't quite certain what sugar plums were (but they sure sounded tasty) and everything would, eventually, fall into place. The future would bring good things and bad, another little brother, and the serenity and troubles that come with growing up, but the present was perfect. This holiday season, whether you celebrate Christmas or Hanukah or another stupendous occasion, remember that everything else can wait; the real gift you're getting is love, from family and friends, and that doesn't come with a receipt.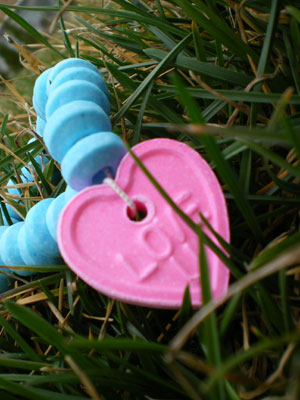 © Jennae P., Kennewick, WA