Molly Rae
February 10, 2012
It was Tuesday night when I found out. I remember because it was right in the middle of NCIS. I was sitting in the wooden rocking chair with red cushions, just messing around on my small inspiron laptop when a text came. My sister, Stephanie, was with her friend Alyssa on some trip when she asked if I had a friend Molly who had died, but I didn't, at first. Before then, hadn't been on facebook, and when I did scramble on it, I immediately wished I didn't.

There on the news feed, the first think I read was "RIP Molly Rae. Fly High baby girl." Looking down, that was all I saw. I sat, shocked, trying to wrap my head around this amazing, friendly, outgoing girl being taken by God, 4 days before her birthday. Finally, the tears came, hard. I remember Steph texting over and over again, wishing she was there, saying she knew how I felt. Though I knew she did, it did not comfort me.

Later, when I was finally alone in the living room, I sat watching Glee when "For Good" came on. I listened and was reminded instantly of Molly. Every word was our angel and that song alone made me start crying again.

It only seems right that it was the last song she performed. Since that night, to me, "For Good" was her song. When I listen to it now, I think only of her, and a small, sad little smile comes to my face. Molly helped make me who I am today, and she will always be with me. Her job in her almost 15 years of life on Earth was to change all who she met, especially the Class of 2014. Whether in her life or her death, she changed us. Her death brought us closer. I believe, that night, with that song, Molly was telling me she was safe now, she was where she was supposed to be.

Molly left this life doing what she loved, singing in her mother's arms. Now she stands in heaven, showing the angels her talent, and watching over all the other HLH children who lost their fights. Fly High Molly Rae; our own rae of sunshine. Our angel.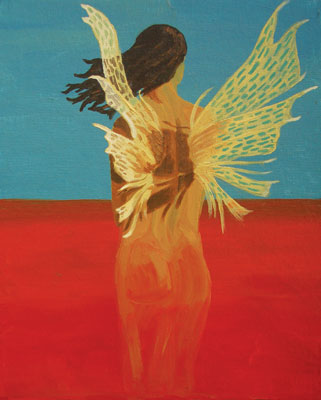 © Allison F., Langhorne, PA