Lost in Norway
February 19, 2012
I am going to tell you about the importance of paying attention. The reason I do so is that a dear friend, Autumn, and I, learned the hard way the consequences of not doing so by getting stranded in Norway past midnight. Fortunately, this was in the summer, so it was still light outside because Norway is so far north. A brief preface to this story, and as to why we were in Norway in the first place, takes us back to the summer before 8th grade when I was sitting with my uncle by the pool in our neighborhood. My uncle, Gary, lives in Norway with his Norwegian wife and their daughter, Andrea. He is the principal trumpet in the Bergen Philharmonic Symphony, and his wife plays violin in the same orchestra. He is also the conductor of a local brass band called the KBB. My uncle and I have a very strong relationship, maintained throughout the year via skype calls and emails, and in the summer by long conversations by the pool. He always treated me as if I were an equal, and not some small, annoying niece. On this day, he had been telling me about how he would love for me to come out and visit him and his family sometime, as he had been telling me every summer I could remember before this. I, of course, was dying for the chance to go spend time with them in Norway, but my parents, unfortunately, were not too keen on the idea of sending me across the world on a plane by myself. This is where Autumn comes in.
Uncle Gary had already met Autumn in the past on one of his summer visits, and really liked her. It was he who actually came up with the idea of talking to my parents about going with Autumn, for 'safety' reasons, and to have a friend on the trip. I remember that day at the pool trying to wrap my mind around the thought of traveling across the world with my best friend, and how excited I was. I knew that I had to make it work, so I pleaded and begged my parents with all my might, while still trying to show my extreme level of maturity necessary for them to agree to this. Eventually, it worked, and so our plan to go to Norway was set for May 30, 2011. We were both so excited, it was hard to contain. Of course we were sad to leave family and friends for such a long time (it was a six-week adventure), yet so excited for what was ahead of us. Beyond the amazing fact that we knew we were going to Norway, we also ended up finding out that my uncle's band was going on tour to Malta as well! Malta is a small, exotic island near Sicily, and stories from that trip will be saved for another time.
So, in Norway, our official job was to play with Andrea, my adorable three-year-old cousin. Oh, and to be good. So we followed those rules to the best of our ability and hadn't broken them yet…until June 17th. We had been good fourteen-year-olds thus far, and were enjoying ourselves to the max. It had been fantastic…until we decided to go on one of our usual late-night walks, but instead of around the lake, we chose to go up a mountain.
Their house is surrounded by woods, a lake, and a mountain. This specific mountain, Mount Leuvstakken, was one that we had hiked up before with others, and was only about a half mile away from the house to get to the base of it. We knew what we were doing…or so we thought. It started out well and we left the house by about 8:00 pm. We successfully navigated ourselves to the base of the mountain, and were even successful in navigating our way up the mountain, but it was going down that threw us off. First, however, I would like to explain what the top of the mountain was like. Imagine yourself in a cloud on top of the world, able to see anything and everything around you in a perfect, bright light. It was a bit like that, but better. The sun was just beginning to lower, but not quite set, and so the light was incredible. It was extraordinary, really. It was, in my opinion, it was the most beautiful place I've ever been. Below us were lush green valleys, lakes and lodges scattered about, and in the distance was the magnificent ocean. So we spent some time up here, enjoying this truly magical place. The result, however, was that going back down our minds were quite distracted…
We had been going for about half an hour down a path that we were sure had been the right one. We were positive that we recognized those stacks of rocks called cairns. So we kept going a bit further, until Autumn said that she didn't recognize where we were. I, on the other hand, insisted that I remembered coming up this way, and so we kept going. The funny this is, I really did think that we had passed that place before. We kept going on and on, and the path seemed to be getting more and more overgrown and more and more wet. We didn't remember going up a way that had been so wet, and it was at about that point that we realized we were lost. Unfortunately, at that point we were in the middle of a valley between two enormous mountains. We tried using what we thought were our perfect teenage instincts to know which direction to go, and so, instead of backtracking, we went in the direction that we thought was home. During this time, Gary called, asking why we weren't back yet, as it was past 11:00 pm. We told him that we got a bit lost, but nothing to worry about because we knew which way was home. We ended up hiking yet another mountain after that phone call. Then, once on top of the new mountain and after having received another worried phone call, we realized that we had gone the exact wrong way. So back down we went. We realized that our only option was to backtrack our steps until we were back on top of the mountain, where we knew the correct way to go. So we continued our adventure: down one mountain, across a swampy valley, and back up the original mountain.
After much worry and confusion, we finally managed to get half-way down the original mountain on the correct side, and, to our relief, found my uncle there searching for us, even though it was past midnight. We knew that we were in serious trouble and that we had scared him half to death, but still, we were grateful to see him. We walked in silence down the mountain at a brisk pace, feeling the disappointment in the air. I remember feeling like Nala and Simba from the "Lion King" when they were found outside of Mufasa's territory and near the mammoth graveyard. It was a terrible feeling, like we had let my uncle down. We had ruined our good reputation of being responsible teenagers. Eventually, after emotions settled and we were scolded, we were back on good terms with everyone, but that feeling of shame still remains. We got back home at 12:27 in the morning from a hike that should have taken no more than an hour and a half. We took four and a half hours. The mistake of lacking attention is one I have certainly learned from. Fortunately, I have been able to keep this memory in my good memories box and am able to joke about it now, but I know that the scare I gave my uncle was unreasonable and cruel of me, and from now on, I always pay attention on hikes.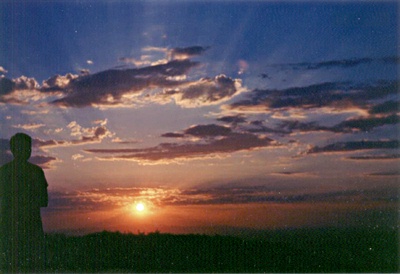 © Jovee B., Dededo, Guam