A Plea From a Marine's Younger Brother: Being A Shadow
February 27, 2012
It's hard to live as a shadow. No one hears you, sees you, cares if you are there. A shadow is dark. Loneliness is perched on your shoulder, whispering deadly lies in to your ear. It covers your mouth. Unable to speak, you sit there, in the dark, thinking, trying to find the words, wanting to scream, to shout, to yell, to be heard. But no one hears you. You can't hear a shadow. A shadow can be seen, yes, but it cannot be listened to, nor can a shadow talk. A shadow owns no words, possesses no tongue, carries no lips. A shadow is forever bound to another being, never falling behind, but also never stepping ahead. A shadow is simply there to be stepped on, to be briefly looked at, to be forgotten. I am a shadow. I will never live up to my brother in the eyes of those around me, nor will I ever get to leave, to stop being his shadow. I am bound my blood and family to be his shadow. A shadow has no words, until now.
My older brother has always been stronger than me. He's the tough guy of us kids, the one that would kill the spiders, catch the rats, climb the tree first, swim on the deep side of the pool. All that my brother lacked intellectually he made up for physically. And he liked to show us that. I wish I could say I remember a lot of times when we got along, but, I don't. My fondest memory with him is only great because I got him before he could get me. I threw the waffle, dripping with syrup and butter, at his face. It brushed his cheek, then hit the wall. That splattered waffle slid down the wall, and my face lit up as he, to not avail, wiped the goo off of his cheek with a napkin. I was grounded within minutes.
My brother's favorite thing to do to me was tease me. He'd call me "toad balls" or accuse me of being gay. He teased my religion, liked to goad me until I wanted to die. And whenever I said something back to him, I'd be the one to get in trouble. He'd lie, act as if he were a perfect angel. To my parents, he was. He never got in trouble for what he did to us. And he never said sorry.
When I was a sophomore in high school, my brother moved away, joined the Marine Corps. I hoped this would mean that dinner time discussions would finally include me, and something other than baseball. But things only got worse. Every night, as we ate, as I sat there alone, my parents talked about Tanner, talked about everything he'd done that was so great, and talked about baseball. I have very rarely been included in dinnertime discussions. My older brother is so great and mighty in the eyes of my parents and everyone I know. I am simply his younger brother, the twin, the baby of the family, his shadow. So they never felt the need to talk about during dinner. Never mind my excellent report cards, or the new science fair metal. Or the fact that I had lost a lot of weight and gotten in to shape. My brother was a Marine, nothing could trump that.
As I look around my house, I see few pictures of me. My older brother's golden smile and bright teeth are in every frame, corner, and wall. Pictures of me, with my nervous grin, my small nose, and my thin mustache, are scattered, rare, and unglorified. I may as well not even exist. Emblems of the Marines are all over the walls, on the car, my father's coffee cup, my mother's favorite shirt. Each thing saying: "My son is a Marine." I want to scream every time I see one of them. I want my parents to know, hey, yes, one of your sons is a Marine. But you've got more than one son. But I know I'll never see my father drink out of a cup that says, my son is a scientist. He finds no glory or fame in that. I'm just a squabble to him, merely a wrinkle in a shirt, easily ignored, easily removed, easily forgotten.
When I was little, I loved shadows. I'd step on them, touch them, try to get rid of them, even. By shining a light on them, they disappear. But when you are a shadow, things are much, much different. You cannot get rid of a shadow if you are the shadow. Only another can do it for you, and no other will, ever. When I move away, I'll still be his silhouette. No matter what I do, how far I get in life, who I marry, how much I make, where I live, they will never stop seeing me as Tanner's brother. I have a name. My name is Cody. And unless I become a Marine, they will never say it. He may be fighting wars abroad, but I am fighting wars at home, inside. Which pains more, I'll never know. But that's just how life is when you're a shadow. That's all there is to it.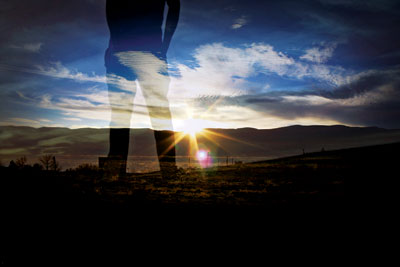 © Ezekiel R.