To Dreams
August 13, 2012
How the blackberry night swirls on and hides breathlessly among the trees atop their gleaming hills in the deepening hours refusing to give way to morn. It bleeds its purple scarlet all across the blazing sky, it cries out silently... Oh, a hue like that! It needs no mouth, no voice, to sound o'er all the Heavens and all the Earth for it speaks in tongues only the eyes can comprehend.
It runs along creeks and riverbeds, a shadow of a moon caressing treetops and kissing closed eyelids. It is the warm breeze of a summer eve taking a trip thru the kitchen with the windows opened at midnight, the crickets' gentle sighs thru the mosquito netting of a back porch screen door.

I could listen to it all my life, I could watch it as it passes every rotation of hours, I could breathe it and grow smaller, younger, feebler, gentler, until I were a part of the night itself, a speck in its distance burning bright as its stars.

This sparkling phenomenon greets us for too short a time, it seems.

The tyrannical Sun instead steals our hours and the monotonous day groans on, and all it is is coughing and sweat beads staining ivory tired skin in the summer, in the endless summer, and grief piled high upon a creasing furrowed brow as we toil, as we search...

But for what?

For fleeting beauty in the untamed Edens looming just o'er our horizons, too far to see, but close enough to taste and touch? And every once in a while a gorgeous tinkling note slips from their orchards where the cherubs may be singing, trying their hand at harmonizing with the birds, and it makes it to our ears in so quiet a tone that we think it must be our imagination...

But I feel that destination cannot be reached, at least not in this lifetime. It refuses to be. In dreams one's feet never move fast enough, never move fast enough to get away from something, so how would they fare trying to reach something?

Oh it seems a floating ideal, sitting high upon a low cloud and drifting ever onward while our mind's eye can just see it, but our arms ne'er long enough to reach.

And a dream in the night glides on and it doesn't mean a thing, but I'd rather get lost within it and never come back again, swirling there among all manner of lovely things that make no sense. Nonsense is borne from the mind as all sense is, the irrational as well as the rational arising from the same primordial pool, and so it is often hard to discern one from the other. Sense is that which can be justified, explained--nonsense just is.

Dear night do not leave me lest I should awaken and open mine eyes to a world of sense, for I wish to see things that are and not things that must be explained to me! I wish to lie here in your endless arms and find what lurked within my own mind before other minds e'er tampered with it and put anything there! And only then may this beautiful, glowing Earth reveal itself to me 'fore the flaming Sun peeks o'er the hilltops to outshine the stars I love. Oh, 'cause when the Sun comes, I'll lose everything, all enlightenment the quiet dark brought, all wonderful things floating in that celestial black sea, I'll forget...

With a drop
Of the dew,
Night had gone,
Time was new,
And the moon
In her sea
Carries on,
Carries me...
Come away,
Come away,
Where the stars
Light the day...

I fear that ne'er will the daybreak come. I fear time will move on regardless, for time ne'er acknowledges anything. And we'll be swept away as all the sands of all the ages have been, by the tides of ev'ry new wretched generation, blushing softly as we had. And then they'll mock us for it, 'cause who would've thought we had? We'll laugh when they tell us we'll never understand, but knowing in a way that we never will, and growing endlessly more sorrowful for it. It is we who will never understand, neither the new nor the old, and that seems to be the loneliest state in the world...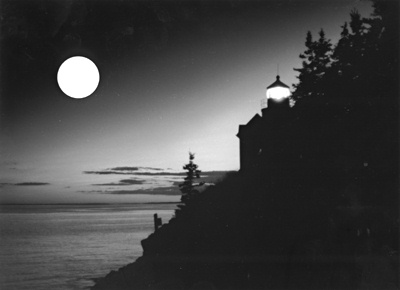 © Steve S., Marblehead, MA