I Do Not Communicate With Words
March 6, 2013
Language is a precious thing in life. It is used to communicate and unite various people and cultures. However, it has an astounding ability to separate. It separates thoughts from actions and spoken words from beliefs. Most importantly, it separates us by our ambitions, dreams, and talents.

Personally, I have a hard time putting my thoughts into spoken words. My sentences rarely make sense, and, most of the time, I just spew out random words until something sounds right. My spoken language is just that- mine. It is a dysfunctional, unorganized, beautiful mess that I have created.

But, that does not mean that I am bad at communicating. I choose other forms to communicate through, such as written word or dance. Dance is how I portray my feelings and thoughts the best. It is a language for people who are just terrible at speaking sentences that actually make sense. My favorite kind of sentence is one that leaps through the air, rolls on the floor, and dances on its toes. I love the ones that start out small and grow with each passing beat of the music until they are so big that they can do nothing but overtake my mind and my heart.

I am so grateful that I am a dancer, because I have this ability to communicate on a much deeper level than the rest of the world. Sure, words are precious. They can make someone laugh or cry, but only if one knows how to use them correctly. Many people, like myself, do not have the gift of0 communication or language. Many of those people have no other means of communication. But, I am lucky, as I do.

I create. My hands are verbs and my feet are nouns. My legs are adjectives and my torso is a basket full of conjunctions. The music is the commas, periods, and semicolons. My sentences look different than everyone else's, but they are still valuable. My sentences tell stories and act as a diary. They comfort those who need it and are a place to put unwanted anger.

I am unlike the majority of people. When I am mad, I do not scream into my pillow or get into a fight. I do not think about all of the awful things I want to say to someone. Instead, I choreograph. I channel my feelings of animosity into movement. I pick a dark song to dance to and choose sharp and choppy steps. Eventually, my anger runs out. Instead of being left with a bunch of wasted time, I am left with a product. I am left with something that I can show to other people, and they will know what I am feeling without hearing a single word from me. All the words that they need are there, in front of them, dancing.

That is what I love the most about choreographing. Being able to express myself through a mere gesture of the hand is what fuels my passion. Choreographing gives me even more freedom to express my feelings, thoughts, and emotions than dancing does. I get to create new dances based upon how I am feeling rather than dancing steps that are based upon someone else's feelings.

I have not yet developed myself as a choreographer. If someone saw a piece of mine, they would not be able to recognize it as mine. I do not yet have idiosyncrasies when it comes to my choreography. However, I am working on it. Just like a person must discover who they truly are, I must discover who I am as a choreographer. When I make that discovery, I will able to develop my own distinct style. Once I find my niche in the choreography world, my language will truly be mine.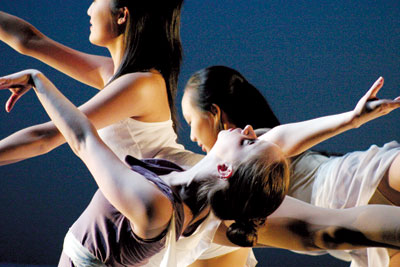 © Josiah T., Allen, TX