Cross-Town: A Recollection
December 1, 2013
The following is a telling of the true events that occurred September 17-21, 2013. I was there as a proud part of it.

It is day one. Not the original day one, no. That was over a half of a year ago. I'm talking about day one of preparation for the biggest game of the year, the first day of practice that week.

You see for years, the arrogant rich school up on the hill had been beating us and being proud of it. Boasting that a player from their school was in the pro bowl, but this was a football town on both sides. Things were different now. They had brought in a new coach up on the hill; their old one was forcefully removed. We won the battle of the town last year also. It was time for a new generation to learn who the real team in town was, who wins by hard work.

We just had another game yesterday, so today we just lifted weights and ran after school. Coach had received new shirts for the Freshman Team. One them was inscribed the team emblem and our motto, "Win the Day." Some people grabbed them immediately, others waited. I did what I was instructed to do as a player. When we went outside to the track I had a stiff neck from the neck stretch machine. I was pushing myself to be better, and some might argue I was doing it too much. From there our directions were simple, run around the track, stop at Coach Mark, and walk the rest of the way to cool down. First time through, I'm in one of the last lines. That's intentional. I'm a slow Defensive Tackle that has a list of medical issues longer than Our head coach's beard, and James Harden doesn't have anything on that beard. I kept as constant a pace as possible. Second Time through, I've done this before, and I can do it again. I'm not as fast this time, no surprise. Third time through, it looks to some as if I jogged through the line, but of course I didn't. Fourth time through, my chest feels as though in went through a cheese grater. Our head coach and General Assistant went over to the finish marker to seek out the weak ones who slow down. Fifth time through, Coach Helm asks if I am done before starting, I refuse to be done. I will not be done, not yet. Sixth and final time through, I sat out this one alongside someone else. Along to announcements. Then we shower in the Team Room. Then I go home, get homework done, and head over to coach youth football. It's Terrible Tuesday over there so there are conditioning stations set up, at the end of practice I manage push-ups at the relay, and then that's done. I finish my homework once I am home. Tomorrow is day two on the journey to victory.

Now it is Wednesday. School pictures are today. When it is my chance, I have an eye-opening experience. I snarled for the camera! Retakes would be in November, and I would take that opportunity. Now for a few days I had been finding football philosophy in everything I saw, but it didn't get to this level before. In high school, football philosophy, at its core, is a feeling that you can't be tamed. It takes years of preparation to get to where my football philosophy was at that moment, and that one school picture may have been my proudest academic photo yet.

So after school we had practice. Today we had to drag everything over to a nearby elementary school, since the turf field had a Field Hockey game and the Varsity team took the grass field. Our head coach is not happy today, as usual. So he's putting people down and threatening to cut players, which he can't do per league rules. He tries to send someone home for bad snaps during Special Teams. Our long snappers aren't perfect, but it's ninth grade. Mistakes will happen. That's why I think our Defensive Coordinator is better, he gets that people make mistakes, and he doesn't think that that's a reason to send them home, even in the biggest week of the year. Like any good player would, the kid stays. In the individual period the O-Line works on Drive Blocking. I'm average. Then we go to team drills and as always, I spend my time watching others do what I am not given the opportunity to. Now we're running again. This time we just go up and down a steep elevation. The coach running the drill keeps saying "One more if it's good." It's almost never one more. But eventually it is, and I have the same feeling as I did yesterday. By the end, Our head coach gives us a lecture on how we don't have heart, how we can't practice well, so we've already killed the chances of winning Saturday, and how we should want to win more than him. Maybe that's why every time I move my back it feels like I'm being beaten. He also talked about how ten years ago he gave this lecture to another player, who was drafted by the New York Jets last April. Ten years ago it was his first year coaching, and he hasn't changed anything about how he runs things so far; that's not a good sign. Then we go back to our school, except now it's a longer route, because the Field Hockey game started and we had to go around it. Today I had an excessive amount of homework, and didn't go to coach. Tomorrow was the third day on the path to victory.

Today we were back on a normal field, but that is insignificant. What is significant is that I decided for myself that I spent too much time on the sidelines during practice. There were other people getting practice time before me that didn't know our offense. It was really all started because I had to fix my pads when I could have gotten time. Still, he needed players, and still, he called others, even after I had been ready to go. I probably won't forget that day for a while, because after practice I sent a strong, yet well-spoken e-mail to the head coach. It talked about how good my play was the week before, how I've been working harder lately than I have in my life. Also, I emphasized how I can be successful if given the chance, by using some of Coach's own quotes. He got back promptly enough with an understated, "I'll talk to you tomorrow." Speaking of which, tomorrow was the fourth day on the path to victory.

Today, for the first few hours, would be easy on the mind and the body, we had a simple walkthrough of plays, to assure that we wouldn't screw up that much during the game tomorrow. Anyways, coach did talk to me, and it gave me a brilliant enough bit of hope. He said the reason why I wasn't getting time was because I was at the point where it's hard for me to improve, but my skills still aren't at a high level, so he was trying to improve others, and give the better players what they deserved. Today when I look back on that conversation, I see it as nothing but deflating to its core. Oh well, the real excitement would come later on, because later on, it would be Friday night, and the eyes of tens of thousands of people would be on our older counterparts, including the eyes of my team, and me, sitting up there in the stands, looking to see who would be the victor of the most anticipated sporting event in town. The game went into an overtime period. During it, I got into one of too many situations that I just had to get away from. So I was walking wherever I could go, just as an excuse to be away from my own head, and as I was walking, the other side scored the game-winning field goal. That wrapped together all of the week's previous disappointments like tinfoil. I wasn't as fazed as I really felt like I was, simply because tomorrow was the fifth and final day on the path to victory.

It's an inexplicable contradiction if emotions that come up Saturday morning, when you wake up at six in the morning and get over to the school, where you will be playing in a few hours. I'm sure most of the people reading can understand that getting up at 6am on a Saturday seems outlandish, but in this case, the end justifies the means. After a dynamic jam session, it was time to get the ready. So, everybody did just that, and got out to have the same sort of pre-game mini-practice that comes every week. Move forward to the start of the game. The opening kickoff had the other team starting the first drive at their own 40 yard line. This series, our opponent had very few bad plays, and on the last one, our outside linebacker grabbed a good pass, but it fell straight through into the receiver's hands for a touchdown; 6-0 score. There was nothing very extraordinary about our first drive, which had a net gain of two yards. The punt had a bad snap, but a good roll, and the other side was back on their own 36 to start. It's a good thing we stopped them that series, because it was already the second quarter. On the next drive, our slot receiver severely broke his wrist between two other players. (On a positive note, after his surgery, he had a pretty hilarious post-anesthesia video.) Again, the dull offensive possession ended in a punt. The other team's running game still looked unflawed, especially after a 45-yard touchdown run; 13-0 score. After three dismal plays, we punted again. Our opponent's passing ability showed they had a multi-dimensional offense on the next series, but still it ended with an interception that put us at midfield with little time left in the first half. In our quarterback's signature style, this possession was justified with an incredibly long passing touchdown; 13-6 score. The next series had a handful of big plays on both sides, and the resulting punt was spotted on our own 1 yardline, where we would start. That would take the game to halftime. Our first second half drive ended in a punt, while theirs ended in a 29-yard touchdown run, which was rather quick; 21-6 score. Big passes on the next series helped cut their lead to just one score; 21-12. After that touchdown, we recovered our own onside kick, so there was still hope! Then, in a few quick plays, we scored again; 21-18. The other team then punted, so we were 70 yards away from the win and it was now the fourth and final quarter. Our quarterback threw an interception and it looked like they would score again, but the player fumbled while he was running, and we got it back. We then, however, had to punt, which gave them exceptional field position. To add yet another glimmer of hope, the other team turned it over again. However we did the same thing. For one more chance, they were forced to punt. Yards after a catch left us with 32 yards to go in two minutes. An incomplete pass did nothing, and the next play afterwards a sack resulted in a 13 yard loss. 3rd down ended in another incomplete pass, so we would have one more play to win the game, and it had to go 45 yards. One of our best receivers was wide open for the catch, but now he had to run. He got around defenders like they weren't there, and ran into the end zone, we won against our biggest rival of modern times! The feeling among everyone watching was so profound.

My team ended the season with six wins and three losses. As the season wound down, plans for next year somehow began, and now I look back and I look forward into the past and the future, However, in light of recent events I have begun to more frequently ask myself the inevitable question that comes from the time spent. That question still remains unanswered: Was it all too much?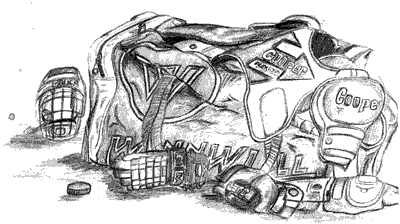 © by Casey C., Rockport, ME