Dear Girl in the Blue Coat
MAG
June 17, 2014
Dear Girl in the Blue Coat,
When I was seven I went to the American Girl doll store. It was a birthday present from my friend Renee. I could barely contain my excitement! Renee and I immediately started planning what outfits we and our dolls would wear.
Before I knew it, it was the big day. I got dressed in my favorite purple velvet shirt (velvet was cool back then), and dressed my doll, Kirsten, in a sunflower dress and a light jacket (in case she got chilly). My mom and I met Renee and her mom at the train station. Excited jitters flowed through us. We got off the train hand-in-hand, two seven-year-olds ready to take on the Big Apple. We skipped from 42nd to 49th, and when the red awning came within sight, we started to quicken our pace. We were getting closer! Closer and closer to … locked doors.
We rounded the corner and saw many other excited young girls waiting by the enormous golden doors. From our place in line, we could see through one of the windows the rows and rows of dolls! Endless racks of clothes! It was enough to drive any seven-year-old girl mad.
Seeing that we were getting antsy, my mom suggested we take a picture. We quickly fixed each other's hair and glanced at my mom's watch. It was 8:57 – only three minutes until the doors opened! Right before my mom pressed the button, freezing this image forever, a lady screeched "Sweetheart, move out of the way! I'm sure they don't want your arm in their photo!"
Renee and I looked to the left to find a woman scolding a girl in a blue coat who quickly scooted out of the way. Renee's mom reassuringly joked that it would have been all right if she had been in the picture – then we would have always remembered the Girl in the Blue Coat.
I remember being confused by this. Would we have remembered her? So many of my photos were bordered with strangers, none of whom I remembered. Why would this girl be any different?
The sound of opening doors quickly erased these questions from my mind. I had convinced myself that the Girl in the Blue Coat would be forgotten. There was no way I would still be speculating about her years later, or so I had thought.
Yet I sit here today and still think about you, Girl in the Blue Coat, and I have so many questions.
What's your name and age? Where are you from? How was your day at the American Girl store? Did we buy our dolls the same outfit? Did you go to the café? Please tell me you got a cinnamon bun!
And beyond that day – have we ever sat in traffic on the same highway just a few cars apart? Are you the new girl in my Spanish class? Do you sense it when I think about you, like someone with a knee replacement feels the throb of rain?
Have we ever laughed at the same time? Or cried? Do you think Justin Timberlake is totally dreamy too? Coke or Pepsi? If we knew each other, would we be friends? Enemies? Frenemies? Which of us would get to be the hero and which the sidekick?
What if, when we apply to colleges, our applications are next to each other in a stack? What if we get accepted by the same school? What if we end up as roommates?
Do you think some day in the future you'll be a CEO and hire my child for his or her first job? Will you be the doctor who cares for my parents when they are old and ailing? Will you bake my wedding cake?
Did you pick out that blue jacket and treasure it, or did your mom choose it and you just wore it to please her? Do you even like blue? Where is it now? Did it end up in the Goodwill pile? This winter, did it keep some other girl warm as she stood outside the American Girl store?
Do you ever wonder about the strangers who are – or could have been (were it not for screeching moms) – in your pictures? Do you ever wonder about me? Do you even remember that day at the American Girl store? As I finish these closing lines, are you starting a letter to me?
I know these questions will probably be left unanswered and the blank envelope I send this in will get stamped with the words "Return to Sender," but I'll tuck this letter away in a drawer and scribble future questions in the margins. I hope one day I'll get the chance to ask them face to face.
Sincerely and curiously,
The Girl Whose Picture Your Arm Was Almost In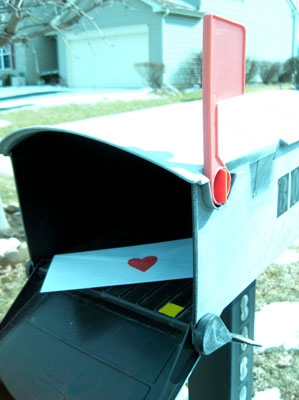 © Jessica C., Aurora, IL