True Stories From An Unpopular Seventh Grader
November 16, 2014
Seventh grade is about how many instagram followers you have. It's about how you do your hair, what jeans you where, who you hang out with and getting as many of the opposite sexes' phone numbers as possible.
I don't have an instagram, I barely brush my hair, I don't have a billion friends and I don't have any boy's numbers. But had if you want to spilt apple bags, I can spilt apple bags, I've been on Honor Roll every year of my life, I'm in Horizons (gifted) classes, I wrote a book, I'm beginning to play the bass guitar, and I have two dogs.
I'm not a freak because I'm not popular. I could be popular if I wanted to. I know people, I have ties, I'm pretty, and I sure as h*ll know if I wore skinny jeans, cared more about my hair than my grades, and got one of my friends to introduce intro duce me to Lizzie West, I would be popular. Popular boys have had crushes on me. I have had crushes on popular boys.
But I don't wear skinny jeans and care much more about getting my eight hours at night than my hair. I'm cool watching the movies I like and not following the rules of seventh grade.

My dad said it's good to write about real life so there is a girl named Sarah, and I swear to the gods her parents keep her in a bubble.
I was wearing my brother's Harvard sweatshirt and my Mariam is like 'Harvard, nice choice' or whatever and Sarah goes –
"What's Harvard?"
Now, let me inform you that this is right in the middle of a gifted class so we were all shocked.
"YOU DON'T KNOW WHAT HARVARD IS?" Someone yelled.
"Harvard is a college," I said.
"A very, very, very, famous college," my friend Reyna added.
Sometimes I wonder if being such a nerd is this easy for everyone and other people are just better at hiding it than my best friend and I. We write fan fictions about our favorite band members, pretend her lost ear buds were an actual person, E-mail British gong stores. Maybe I should explain that last one.

Before I got my bass guitar I was showing pictures of it to my best friend Andy, she wants to play the drums so we figured as long as we were on the website we might as well look at drums. Then Andy began to look at the catergories,
"Used, New, Symbols, Gongs, Acoustic WAIT WHAT GONGS! ALEX WHY DIDN'T YOU TELL ME THEY HAD GONGS ON THIS WEBSITE!"
"I didn't know they had gongs on the website," I said calmly.
"Well let's call my dad and ask if I get a gong!" Spoiler alert, her dad said no. But that didn't stop us from calling the store four times and Googleing 'gongs' to find a British gong company.
Andy of course just had to use my e-mail and she just had to say "Do you ship gongs overseas I'd sure love me a gong?"
We did get a reply, to which Andy sent "Great it will look amazing in my Satanic Morgue."
And then there's the untold story of how we called the store, talked to an agent – I can't remember his name let's call him Tim – who hung up on us once. Then we called to tell them Tim hung up on us, only to get Tim again, where we hung up. Then calling again, getting Tim and asking him about the gongs to which he said "How old are you?" We hung up then but later thinking of many comebacks including – "Old enough to drink beer!" and "I'll be nine on Christmas, that's right – I'm JESUS!"
Finally we called a store in Arizona and asked if Tim worked there, sadly he didn't so we couldn't complain about how he hung up on us.
Maybe I should take a break from true stories.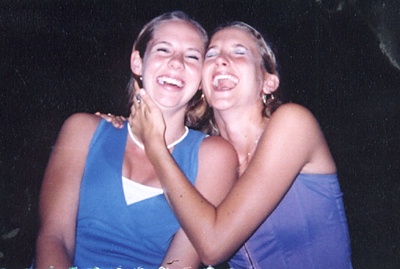 © Elena F., Platte, City, MO