16 and Definitely Not Pregnant
MAG
November 22, 2014
I watched him rise from his seat on the bus, which was teeming with sweaty, drunk student athletes. He was the stereotypical prep school teen, sporting a multicolored Vineyard Vines button-down, khaki shorts, tall socks, Vans, and dark flowing hair. I'd noticed him around the squash courts. I couldn't help it; I was attracted to stereotypical preppy boys.
With his coach at his side, he pushed by me wearing the grin of a five-year-old with a lollipop. I turned to the boy next to me, Owen, a senior at my brother's school.
"Where's he going?"
Owen shrugged. I sighed and glanced around, careful not to bump the group of people that entrapped me: Owen, Mia, the young teammate I was taking care of, and another girl, whom I immediately envied for her ability to casually chat with Owen. Though I tried to listen, their conversation was drowned out by the throng of kids shouting, laughing, singing loudly, or hanging from the railings along the ceiling of the bus.
Mia stood stiffly, glancing at the floor. She was only 12, but perhaps she was handling her surroundings better than I was. I'd never been in such a rowdy situation.
It was midnight, and the tournament party was just ending. The bus was preparing to take us back to the hotel. At the party, greedy tournament officials had been selling cocktails and shots of hard liquor to anyone 16 and older, then happily pocketing the profit. Glad to be leaving the party, I gazed to the back of the bus and spotted my 14-year-old brother laughing with some older kids. I was about to call his name when the Vineyard Vines boy got back on the bus with his coach.
"Guys! Guys! Guess what?" His speech was slurred. "I just peed in a bush, and I'm proud of it."
He stumbled back to his seat, and I tried not to roll my eyes. I'd pegged him as the most attractive and by far the most intoxicated. The boy took a seat and started to make out with his water bottle. I nudged Mia and we both laughed. The bus started rolling.
The tournament was international, but it was mostly Americans on the bus, and it was mostly Americans having trouble counting to 10. There were only four on the bus who had any common sense: Mia, my brother, Owen, and me. I turned to Owen again. He'd finished the conversation with the pretty girl.
"This is crazy. Look how drunk that boy is. I've never seen anything like this," I said.
Owen doesn't smile much. "Yeah, I learned from experience it's better to just get a little buzz."
I nodded. I had no idea what he meant.
What would my friends say at that moment? My uptight, all-girls education produced a steady stream of moral teens. My classmates and I often dreamed of parties like this, but we looked down on them as well. Who has time to party when we're all so busy trying to outsmart each other and get into colleges like Stanford?
Fun was a rare luxury for me; my routine didn't allow for it. I went to school. I got home. I went to my squash lesson. I wrote the required pages for my manuscript, then studied until one in the morning. Anything less than an A- was a failure, and I had deemed those who drank and partied as immature, pathetic morons.
Yet in the pit of my stomach, something lurked. Jealousy. True jealousy for the irresponsible teens on that bus. The girls who so effortlessly flirted with boys. The kids who didn't have a care in the world, who were simply enjoying life.
Last year we read Albert Camus's The Stranger, then watched the film "The Graduate." Never had I been so upset, so disgusted by a work of art. The idea is that life has no true meaning – that upon achieving your goals, your happiness is only momentary and you will long for your old routine. I realized why I abhorred the thought. My greatest fear was that after all my hard work and stressful tears, my happiness would only be momentary.
The night after the party, Mia and I wandered to Owen's room in search of my brother. There we found him along with Owen and his roommate, Brendan, whom I'd seen the night before on the bus, almost as intoxicated at the Vineyard Vines boy. I don't know how it happened, but I'll remember that as one of the most fun-filled nights of my life and as one of the most eye-opening. Even Owen smiled that night.
We played a typical teenage game I'd never had the pleasure of experiencing before: "Never Have I Ever." We stretched our hands out flat and went around the room naming things we'd never done. If you'd done something someone hadn't, you put down a finger.
Never had I ever had fun. By the end, my 16-year-old self was holding up as many fingers as the 12-year-old next to me. I was mortified. What was wrong with me? Why didn't I like rowdy parties, drinking, smoking? Why had I never kissed a boy? The males in the room had a word for me: prude.
Brendan was the first to be eliminated from the game. He'd done it all. He said the most ridiculous things. Not once did he stop to think, What I am about to say is not socially acceptable. Instead he portrayed himself as a dull character. I judged him immediately: He won't go to a good college. He's a mess. I'm so much better than this boy.
Brendan parties. Brendan plays four instruments. Brendan scored higher than me on his SATs, and Brendan is taking Calculus BC as a junior next year – a class I will most likely never take.
After learning that, maybe I had some fun, maybe I didn't. Maybe I created my own version of a good time while staying true to my values. Who knows what the right thing to do is when society is so contradictory – when parents want you to be that goody-two-shoes with Ivy League potential, but every teenager in the world seems to be coaxing you to breaking your good-girl habits?
Somehow we need to find a balance. We all need to find happiness and laughter now, because the future is too far away and too ambiguous to wait for.
Me, I'm still working on finding that balance between my drunken Vineyard Vines crush and the overly apprehensive 16-year-old girl laughing at him from a distance.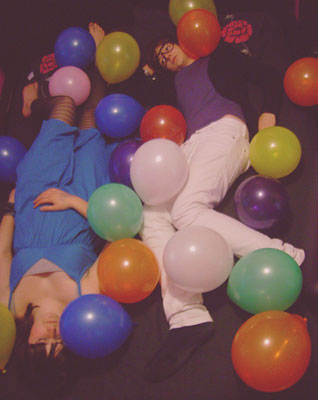 © Jess B., Nottingham, United Kingdom