Chasing Happiness
February 1, 2015
Some say I'm running from fear.
A year ago, I was fighting with my mom and dad about trying to change electives. I wanted to quit – yes quit, the forbidden word – orchestra. My dad stood at the head of the dinner table with my mom leaned against the back of his chair. They both wore "oh-what-are-we-going-to-do-with-her" expressions. I sat in a chair with disgraceful, crumpled tissues strewn in front of me. They were tired. I was emotionally drained. They asked me, "Why quit after you've been playing it since 4th grade?" Good question.
In the beginning of 8th grade, when I was still playing the cello, my friend told me about the three levels of a musician: beginner, intermediate, and master. She asked me which category I thought I was in, and I could answered, "I'm not very good at the cello, but I like playing it." My friend said that if I enjoyed it, then that was good enough. But past the end of 8th grade, my feelings changed. Though I knew feelings were fickle things, I had thought that nothing could pull me apart from the mellow vibrations of the sturdy cello that I had held for 4 years.
But slowly I could feel my body rejecting the cello the way a child flinches before a beating. I could feel the judgmental stares of my fellow cello players. The class periods of orchestra which I had looked forward to in the past became looming, dark clouds. I found myself constantly comparing myself to the other cellists. They were playing sophisticated songs for the audition. I practiced my song diligently…but at the audition, within that small music room with only me, the music stand with the sheet of notes, and my old music teacher with her clipboard, my hands couldn't hold the bow straight. My grip collapsed. The notes came out shaky and unconfident. Music can't lie; I was too late to find out. Through tears of disappointment for myself and for my wavering feelings for the cello, I asked myself, "Do I still like playing the cello?" I wasn't sure anymore.
At the end of 8th grade, I was fighting with myself. Could I still save the cellist inside me or was she lost already to the stress of performance and competition? You're not a quitter, I told myself. But it would only be lying to myself if I kept on playing. I couldn't continue. It would be disrespectful to my music teacher, my cello, and myself, if I chose to continue playing without pouring my heart into the music and investing more effort in hours of practicing.
And that's what I told my parents. They were skeptical and asked, "Then what elective will you choose? How can you be sure you'll like it and not want to quit it a few months in?"
Now I was really stumped. To be honest, I've never been the person with their whole life planned out. But I'm searching for that thing that will make me happy. I suppose when I reach it I'll just know: this is the thing I'm meant to do. Until then, I'll continue searching.
They say that when one door closes, another door opens, and that's what happened for me. Music and art had both been passions of mine since elementary school. I loved the beauty of creating something. Although the sounds of the cello were intangible, the way that my sound blended in with other string instruments to form an orchestra was beautiful. I also loved drawing. With just a pencil and paper I felt that I was given so much power to create whatever I desired. I could draw a sequence of small lines to form another picture. I especially loved drawing real life objects because it was magical how an item in front of you can be portrayed on a piece of paper. But what I loved most about drawing, was that you could always erase. Something might not have been the right proportion or you might have come up with another idea, but it was totally okay. I really did love art and playing the cello.
However, in order to focus on my studies, I had to give up one of them. I chose to give up art. But now that I knew I wasn't going to take orchestra for all four years as an elective, I decided to pave a new road for myself: digital imaging.
Surprisingly my mom supported my idea. Although she still had reservations about me suddenly dropping the cello, she also thought that it would be nice if I returned to pursuing art. Plus, it would be interesting to learn new skills such as using Photoshop.
On the first day of school, instead of walking into a room full of music stands I walked into a room of Mac computers. Instead of creating music through the strings of a cello I was creating art in Photoshop. It was my first time using Photoshop and our first project was a collage about yourself. We were to find pictures all over the internet. I pieced together a key from Key Club, a Science Olympiad logo...and a cello. Even if I quit playing the cello, it was still a part of me that shaped who I was. Slowly I'll also piece together who I want to be in the future.

Of course, sometimes I'll probably look back at my choice and have a lot of "what if"s. But in the end, cello was just the "road not taken" for me, so that I could choose another path for myself.
And I am continuing to run down that path. Some may say I'm running from fear, but I prefer to think I'm chasing happiness.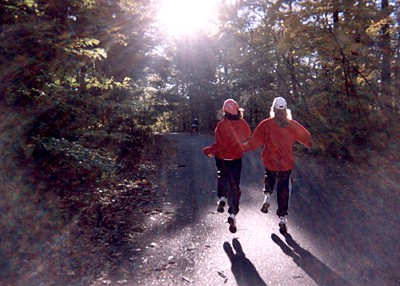 © Jacqueline W., Milton, MA