When Kindess Reaches Out
July 10, 2015
  For the first five years of elementary school, my best friend Sarah was always there for me. We did everything together—at one point, we began telling people that we were sisters. We thought we looked like twins, indeed; we were both brunettes, had green eyes, were around the same height, and we both adored horses and had the same breed of cats as pets. As we grew older, Sarah—being more outgoing than I was—began to slowly drift away from me, preferring to hang out with the more 'popular' kids, whatever 'popular' in the fourth grade meant. It was then I felt excluded and alone for most of the year, for not only was Sarah ignoring me in school, but she was friends with one of the girls who constantly teased me. I simply sat in the middle of the ring of tree stumps next to the playground during recess, wondering why I couldn't be more like Sarah. After all, we were as close as sisters could be, right?

  One day, as usual, I was sitting in the ring of tree stumps during recess, when I noticed a girl sitting down on a small stump beside me. "Hey, Maya," she said, and I recall looking up at her hoping to see Sarah, then looked away, disappointed. I honestly wanted nothing to do with this girl, nor anyone else. I just wanted my friend Sarah back.

  "Want to talk?" she asked. I looked at her again, deadpan. This girl, Emily, was practically a total stranger to me. In fact, everyone in the grade thought she was not only a stranger, but strange. During recess, she would sit on the hill next to the field and play with the clovers, and she stashed away at least thirty books in her desk. She liked to talk about catching faeries, as if they were real. My classmates thought she was annoying because she only sung in Hebrew, and she was taller than everyone else in the grade—even the fifth graders.

  Even more so, I thought it was weird that she noticed me sitting in the tree stumps. Was she just watching me the whole time? Didn't she realize how creepy it was to stare at people like that?

  Still, in a monotone voice, I managed to spill out everything about my loneliness, about Sarah, the teasing, and the envy I held within me. I didn't want to keep it bottled up any longer. Besides, I had no one else to talk to. I felt relieved to admit my emotions, but deep down inside, I knew that saying them aloud wouldn't make Sarah want to be my friend again. Emily listened to every detail of it, and at the end of my rant, she simply put an arm around my shoulder. It was a small, kind gesture, and I hesitated for a moment before wriggling away from her. Later that day when it was lunch, Emily insisted that I sit with her to eat. Again, I frowned, but reluctantly sat down next to her.

  "You know, you can sit with me any time you want, okay?" she told me. That, and a small head nod from me were the only two things we did to acknowledge each other that day. Afterwards, however, we became good friends. It turned out that we were both avid readers and writers, and we loved making up stories by dressing up and acting them out ourselves. She was a great listener, helping me through my parent's divorce, and she answered any question I had honestly. At the same time, she was hilarious and incredibly random. Through this new friendship, I lost more and more of the envy I had for Sarah, and realized that I had been possessive and stubborn—traits completely beyond my real personality. I should have let Sarah be friends with whomever she wanted and came to know that it is only normal for friends to come and go. Here came my belief that friendship is about reaching outside of your comfort zone, and offering kindness to others.

  In the end, both Sarah and Emily moved away in the summer going into fifth grade, and I haven't seen Sarah since then. I was back to being a loner. Except this time, I strived to break through my shyness. It was time for me to practice the belief that Emily showed me. That year in fifth grade I started soccer. Hana, a soccer-crazy girl, was looking for people to join a team with her. When nobody volunteered, I decided to go with her. We became great friends, and our friendship continued through middle school. I like to think that a little of the belief that Emily taught me passed onto Hana, and that perhaps Hana would do the same for someone else.

  It turned out that before she met me, Emily was just as lonely and in need of a friend as I was. I was struck by how the whole first half of fourth grade, I was selfish and purposely reserved for no reason. I couldn't see how many friends that distanced themselves from their other peers were experiencing the same situation, and how I wish I was able to see through my own conflict to reach out to them as Emily had for me—to help them realize that they aren't alone, that friendships are available all around us. If it weren't for Emily putting her arm around my shoulder that day in school, if she was as oblivious as I was, then I wouldn't have come to the belief that friendship is about reaching outside of your comfort zone, and offering kindness to others. I had done nothing especially kind to Emily before we became friends—I hardly knew her at all. However, just by opening myself up to the idea of a friendship with her, I realized that I wasn't alone.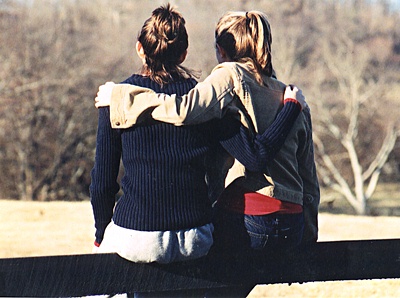 © Jaime M., Wichita Falls, TX