Love, Jim
MAG
June 12, 2009
These two words, so simple, had me frozen in the small kitchen of my father's new condo. He had left the room for a moment, and being a naturally curious child, I was looking through the things lying on the table: his police uniform, a book, and an envelope. I picked up the latter gingerly and pulled out the valentine inside.

I was shocked to see a card at all. My bachelor father wasn't exactly the romantic type. Any friends I have brought to my house have always viewed him as the essence of masculinity – someone who could easily be imagined at a bullfight with Hemingway or yelling at the referee at a football match. From the deep, commanding voice that had served him well during his 20 years as a police officer, to the long, snake-like scars that draped his shoulders (earned in Korea when his jeep rolled over), he was the archetypal father figure and a hero to his family. He's that father who could scare his daughter's boyfriend to death with just a handshake.

After reading the card I stood there, glued to the floor, feeling guilty for snooping but very confused by what I had seen.

"Love, Jim."

The two words scribbled at the bottom of the card – the kind covered in roses and lace – seemed to take on a life of their own.

My mind raced: Prince Charming loved Cinderella; princes don't love other princes. Why would a man give this card to another man? You can have a mommy and a daddy or maybe a mommy by herself or even a daddy by himself, but who has a daddy and ­another daddy? Maybe he loves him as a friend, or how Daddy loves me … but when Mommy used to give Daddy cards, they looked like this – all red and white and pink. Why would a man give my daddy a pink card?

This card – this romantic valentine – was addressed to my father. And it was signed by his roommate, Jim, whom my younger brother and I had just met.

I was eight when I realized that my ­father was in a relationship with ­another man.

Before my peers found out, they often were careless with their language – referring to anything unpleasant as "gay" and poking fun at homosexual men. I suppose these actions were a result of ignorance. It is ironic, though, that my mother was the first to introduce me to hate. I have a vivid memory of sitting in her beat-up Chevy as she sped down our quiet street, chasing my father and Jim, yelling, "Run, f----ts! Run!" I was too terrified to ask, "Mommy, what does that word mean?"

Despite the harassment, Jim stayed with my father, stayed with my family. Despite my mother's abusive phone calls, despite her threats, her vicious, broiling anger that was mostly directed at Jim, he stayed. And more than that, he often put himself in her path to protect my brother and me.

When I found the valentine, I had not yet heard the term "gay." This was long before my middle-school classmates would fill me in through crude drawings and hushed words. This was before the media tried to define gay men for me, tried to sell me the idea that they were all flamboyant with limp wrists, a love of Barbara Streisand, ­effeminate voices, and leather outfits. It was a time before "Will and Grace," before people felt comfortable debating the morality of a person's sexual orientation in living rooms, classrooms, and workplaces.

For me, there was nothing "sexual" about my father's orientation. Because I learned about it at a young age, I formed my opinion of homosexuality based on love rather than sex. My ­feelings were cemented in ­acceptance before anyone had the chance to tell me to think otherwise.

For me, my father "being gay" just meant that we had four seats at the table instead of three. Jim evened us out; we could play foursquare and football and soccer at the park without having to take turns. It meant that I had another adult to protect and care for me, to mold me into the person I would become. The few minor conflicts that arose between Jim and me had nothing to do with him being gay, but rather my childish feelings that we were competing for my father's attention.

It has been nearly ten years since I found that card, almost as many since my father confirmed his relationship with Jim. In that time I have come to know and love Jim as a stepfather. His relationship with my father is one I ­admire and hope to someday emulate with my spouse. They have the utmost respect for each other and a love more real to me than those who scream about their undying passion from rooftops.

"Love, Jim." That was the only time I witnessed that word pass between them, yet they are the most in-love couple I know. I saw them kiss only once, at their wedding two summers ago, and it was so shy and tender that it made my heart burst. It was declarative, a final proclamation of the affection they had hidden for ten years because of their love for my brother and me. These two men taught me what love is. The words don't matter, and neither does their gender.

When they kissed, I realized I was being offered a life lesson that some never experience. I realized what love is not. Love is not a high school romance; it's not kissing in the hallways, passing notes, and sneaking out. Love is not Richard Gere and Julia Roberts on a shopping spree in "Pretty Woman." It's not slow dancing, or a big church wedding with a fancy dress and hundreds of flowers. For our entire lives we are told what love is supposed to be, and we measure each relationship against those standards. But true love does not live in butterflies and blushing, nor in happily ever after.

Love is two people who care so deeply about the comfort of the two ­children living with them that they do not touch in their presence for ten years. And it doesn't matter because they've created a home out of their love. And visitors are able to sense love when they walk through the door. And even though our home is not quite the 1950s American dream – with a mom and a dad and two kids – my ­parents' love stands in place of that, overwhelmingly present, even if ­invisible to many.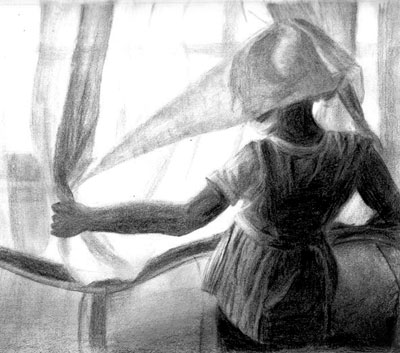 © Kelsey M., Davenport, IA