The Unsaid
September 21, 2009
I'd been his girlfriend for over six weeks. He lived about an hour away, and we had met at a sports broadcasting camp. I was the only girl who stayed overnight. He flirted with me constantly, and I shut him down, even though I had feelings for him. The camp was only about five and a half days, so I didn't want to get in over my head. He had a girlfriend, but they were over since she cheated on him.
When he told me the details of his relationship with his ex, I couldn't help but wonder why people could possibly cheat. It hurts more to know the person led you on, that they lied, and didn't just come through then to break up.
I began to understand it after school started, and I started seeing my best friend, a guy, who I had liked since sixth. We were now in eighth. He fell for me about twenty seconds after we met, and it took me one day. I thought that since I was happy in my relationship, my best friend wouldn't bother me at all.
My friend and I had no classes together. One day, as teens filtered out of the cafeteria, he was behind me. He started talking, and I whipped around to look at him. I really looked at him. The best thing about tonight's that we're not fighting, could it be that we've been this way before? In sixth grade, we were inseparable. Seventh was more of the same, except we hit a rough patch at the beginning that evened out by February. Over the summer, we barely talked.
Then, he heard about my boyfriend. He started being really nice and wanting to talk a lot more than before. He'd instant message or text me to talk about our common grounds, sports and rock music.
His eyes, they were beautiful. He had acne- not the pepperoni type, but little flawed skin bumps here and there. His hair cut was his usual, even though he was cute with it short.
I looked into his eyes, and met him. He was different. How? I don't know. Tonight will be the night that I will fall for you, over again, don't make me change my mind.
Somehow, between then and now, I fell for him all over again, much like Secondhand Serenade describes.
My boyfriend knew about 'the other guy', but didn't seem to care. He confessed to liking a girl in his class a little. He also said his first girlfriend, who dated him for a year, was the most amazing person ever. The way he talked about her gave her an impeccable image. She was cute, smart, nice- all his words for her.
Once, he asked what I liked about him. I told him, he told me I was cute and funny. I'm not sure if I'm jealous. It's a strange feeling when the guy you're going out with is still talking about his exes.
Maybe it's because we don't have anything else to talk about.
In the movie Little Manhattan, the father tells his son that his mom and him were divorcing because they wouldn't tell each other little things, which turned into big things. "There was so much left unsaid, there was nothing to say at all."
Has that happened to me? Me not running and telling my boyfriend my buddy has amazing eyes and that I question who I should be with and who I'm right for, and that I have all this power and such that I shouldn't?
For the past three days, when we talk, either through AIM, our cell phones, or Facebook, there's nothing to say. "Haha" and "Yeah, haha!" are repeated five hundred times to the point where I say, "Wow, nothing to talk about." All he replies is, "I know." "I want to keep talking…but about what?" I say, and he simply exclaims, "Same!"
When we try to figure out how to fix it, we can't come up with anything.
Maybe the better question is, "How did we get here?"
I think I know the answer to that one.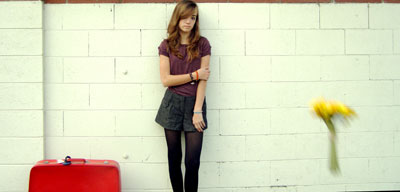 © Austin K., Studio City, CA