Confessions of a Stalker
MAG
I look forward to seeing his face every morning. His gorgeous blue eyes, adorable smile, his perfect hair; you couldn't ask for anything better. I've never talked to him, but I feel like I know him. You can call me a stalker, or obsessed. I know I am. This is high school; it's okay to have fun.
It all starts before homeroom, when I see him at his locker. Then it's time to go for a little walk down the hall. My heart starts pounding and the butterflies start fluttering. All I hope for is a brief moment of eye contact. Maybe that's all I need to have a good day, or maybe I know that's all that will ever happen.
I totter down the hall like I've never walked before. It's difficult to be noticeable without looking like you're trying. Time seems to slow down as I approach him - like I'm walking toward the horizon but it's not getting any closer. He's more magnificent than the horizon. When I'm finally parallel with his locker, my head turns and I glance his way. Will he gaze back, or just ignore the fact that he is my morning cup of coffee? Sometimes my cup is half full, and other times it's completely empty. When I see his eyes looking into mine, the world lifts off my shoulders. My day is set. Today will be a good day.
Throughout the rest of the day, I see him a few more times. The same feelings go through my body. My day revolves around his schedule. It's frightening, even to me. I know which stairs to go down, which halls to go through.
Does he know that I follow his every move? Does he know that he's the most amazing thing ever to cross my path? He's like a black cat without the bad luck. If I see him, it affects the rest of my day. He probably doesn't even know I exist. I bet he doesn't know my name, or where I live, let alone what grade I'm in. I always worry that I'm being too obvious. I wonder if he notices that I look at him and no one else. All of these what-ifs pulse through my head.
Now and then I want him to notice me, to ask questions, to wonder things about me - what's her name, what's she like, what's her story? - like a journalist getting the juice behind a story. He probably knows more about me than I think. All my dreams could become reality if I just said something to him. But I could never do that. Me talking to him ... not a chance. There's probably a greater chance of me having a pet dinosaur. I've fallen harder for this guy than a skydiver whose parachute didn't open.
My life would basically be complete if we had a conversation. He's way out of my league. I always talk about him. "Look how cute he looks today. I love those shoes." What if he heard me? He probably has heard me say something about him. He has to notice me staring all the time. He has to know - how can he not? I know I would notice someone stalking me. If only I had the guts to walk up and say something to him.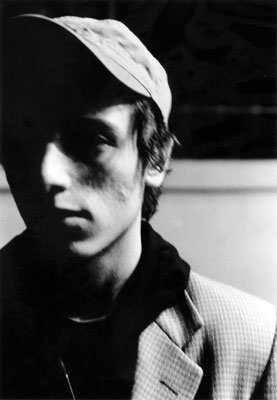 © Ariel L., New York, NY