Driving Excursion
January 20, 2010
Driving is a privilege. We get to drive when we turn 15. Then we go through Driver's Ed. Finally at age 16, we can get our license. The age is a whole bunch of bologna in my family.

July 29th I got behind the wheel of my Mamaw's maroon Jeep. It's impossible to describe how nervous I was. It was like an enormous butterfly fight in my stomach, sloshing around with my peanut butter and jelly from lunch. This summer I was at my Mamaw and Papap's house for my annual week of vacation with them. My parents had told me that I should start practicing driving. On my second day there, I was finally going to get to drive.

My Mamaw drove to a gravel road behind their house. On that short one minute ride to the country road, I was getting pretty shaky. I switched seats with her, and I slid into the black leather seats with lots of anticipation. Once I was ready, I turned on the radio and rolled down the windows so that we could have a relaxing time. My nerves caused me to forget a very important part when driving, my seatbelt. I strapped myself in and put my foot on the brake, and I asked my Mamaw if we were ready to start. As soon as she was done explaining the car's controls, I felt a little less nervous, but still some butterflies fluttered. Suddenly, the wind took my hair, and we were ready to go.
This was the first time I have ever operated a motor vehicle. To accomplish this, I was pretty ecstatic. I gently moved the short stick down into "drive." I felt as if my heart was in my throat, thumping as loud and fast as possible. The only thing louder than that was the dusty gravel beneath the car, crunching like salty potato chips, as I eased off the brake. The pedals felt so far away, like in a different world, where it wasn't tangible until I turned 16. I burst through the thick glass of that world and placed my trembling right foot on the gas. I suddenly felt a burst of excitement. I am already burning rubber, and I am only 13!
The further I coasted down the gravel road, the more relaxed and comfortable, I felt. While we trailed down the tiny hill, I glanced at the speedometer, and I was going 10 miles per hour! When we passed by our neighbor's house, I detected the pungent smell of cow manure. At the bottom of the hill came a big left turn. What if I couldn't make the turn and drove car straight into the corn field! As I was turning the wheel, I realized it was just a little loop that ended very quickly. I felt so relieved that I had made it, but up ahead was what was really frightening. A dead end neared at someone's house. I asked my Mamaw what we were going to do, and she told me to park in the grass, and then back out. Great, I couldn't get over some silly turn, and now I had to park and back out? This is going to go over well.
As we got further up a little hill, there was a thin electrical wire bordering the road, keeping the cattle inside. I was really getting nervous. If our car bumps one of the electrical wires, will it shock it? Will we be electrocuted? More bizarre thoughts flashed through my mind. As I came up to the parking space, I saw two short wooden posts on either sides of the grass. Another obstacle I would have to worry about. As I approached the parking space, Mamaw told me to swing out, and then cut right, into the grass. I made a sharp right turn, barely missing the post, and turned into the grass. I pulled forward some, and give it a little gas, and then I braked. I slid the stick up to reverse and eased off the brake. I gave it some gas, and I backed straight out. I cut the wheel to the left and missed the straggly post by four inches. I braked, put the car in drive, and headed down the noisy gravel road.
We came to the edge of the highway that would head back to the house. I asked if I could cruise the car into the driveway then park, and Mamaw said yes! First I waited for a white van to pass so that I could take my time. I pulled down my turn signal, and for the next seven seconds, I could only hear the click, click, click of my left blinker. I pulled out onto the highway and went 20 mph. I was driving on the highway! I pulled into the driveway, and I parked right behind their silver truck.
Proud and excited, I put the gear shift in park, released the brake, and turned the key to "off." I pulled out the key, unbuckled, and got out of the car. I felt so accomplished; I should get an award for what I did! As I walked into the house, I casually dropped the keys into the basket that Mamaw puts her cars keys into and went to change into my swimsuit to go swimming. I had just driven a motor vehicle for the first time in my life down an isolated gravel road. I am 13 years old. I can still hear the keys jingling in the air, as they fell into the brown wicker basket.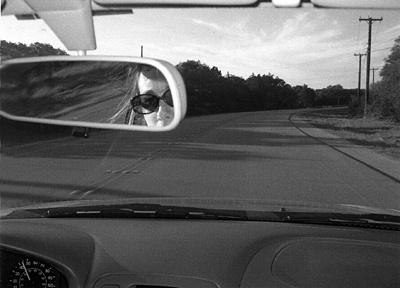 © Roxanne D., San Antonio, TX