Christmas Morning
April 26, 2010
I still remember that thrill in my five-year-old self?that thrill of Christmas. The first snowfall lures you in, the crisp, bright white greeting you from the window when you first wake. The excitement you feel when you see all the toys in the display of the shops, and the smell of peppermint and spice from the gingerbread men baking in the oven. The ornaments twinkle from their places on the huge evergreen tree in the center of town, and rainbow lights sparkle on houses in the night.

The morning after old St. Nick comes, you always get up extra early. You throw the warm, pink covers from your bed and scurry to the closet to get your robe and slippers before you freeze. Then you run into Mom and Dad's room, and five minutes later you're hurrying down the stairs, anticipating the sight of the bundle of presents under the tree.

You switch the lights on as you go, the cozy yellow color is the only thing that illuminates the house in the darkness of early morning. And soon you find yourself staring at the silver wrapping paper that you just knew would be there, beneath the tree, happiness reflecting in the shine of your sleepy eyes. He came, he came!

You open all the presents, excited by each and every one, while Christmas carols play in the background, and Mom snaps shots of you with the camera. However, soon all that's left is the metallic wrapping paper on the ground, the pile of gifts in the corner. The thrill fades, and Christmas morning is gone. It becomes just another distant memory, only remembered by a picture in a dust-covered photo album.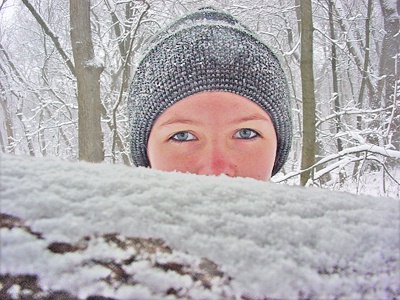 © Greg K., New Lenox, IL