Shadows
May 30, 2010
The boardwalk is 14 feet wide and 3 miles long. The planks, cut diagonally, fit together in the middle, making it look like a long braid. There is a streetlight every 20 feet.
I find myself here one Sunday evening about 8 o'clock, walking my little white Maltese. I catch myself thinking about who I am, what I am. A romantic beach on my right, I lose myself in love stories, written in the ink of my mind. Then a car horn blares, and I cringe, looking on my left, reminding myself of the reality of living in a city. I stroll down the middle line of the walk, symbolic of where I am in life. Am I a writer of romance, or a Manhattan misfit? I look at the long shadows in front of me, and decide to consult my own.
I pass a light, and I see Kathleen, A Common Princess, longing for her knight. The shadow fades, and I am in darkness for a moment.
I pass another lamp, and I see Abigail Smith, a city girl accidentally turned cowgirl. I pass another light, and see pregnant Jessica Albright, who has no one but God to turn to.
A last light, and I see Kathryn Woods, a queen stuck between two worlds. I identify most with her.
Another streetlight, and I see Marissa G., with frizzy, uncontrollable hair, acne, and size 12 jeans, unsure of what the future will bring.
My shoulders sag as I'm more confused than ever. I'm still stuck between two worlds. I look up and see my beautiful bridge, decked out with lights. No, I think. Three worlds. The city's world, my world, and God's world. I look at my shadow again, seeing what God sees. I saw a tiara, beautiful hair, no blemishes, and a ballgown. He saw a princess. I straighten my shoulders, stand upright, and stick my chin out a little. I walk my Maltese, looking up at the sky. Towards my Father. Towards my home.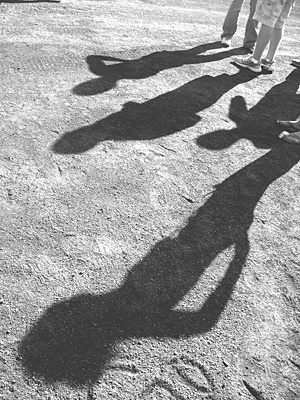 © Trella R., Mountain Lakes, NJ