Innocent Love
August 7, 2010
His name was Jonathon M. even in kindergarten he was every girls dream. Dark brown hair and big green eyes, his smile was always in place and it made me happy. I was one of the lucky girls to be his friend. I was popular just like him. He had his pack of boys. I had my pack of girls. We hung out everyday at school. Innocent love K thru Three. Resess was filled with flag football games and endless games of tag. Swinging together and sharing our snacks.
Then that day when Mama told me I was gonna be home schooled. I didn't argue in most ways I wanted it.
I tolde Jonathon and that was the last time I saw him. We have mutal friends now. They tell me he is doing well. He's still not very tall. Playing football for his Highschool team. I'm so proud of him. He doesn't remembr me anymore.
I sit here and think about him often. What if I'd stayed in school? Would we have went past past Innocent love and mabey gotten married? I don't know. But I will always have the great times we had in my heart. The pure Innocent love of K thru three.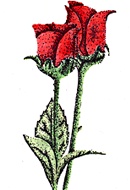 © Sarah M., Phoenix, AZ