Sparks
MAG
December 19, 2010
"He was funny," my mother yelled into the phone over what she claimed was a bad connection due to her traveling in a moving car on the Deegan Highway. "Not, like, really funny. But outgoing. And charming. Like your cousin Ben." I could hear her rolling what was probably a single white Tic-Tac across her tongue and into her cheek. I hate the noises my mother makes with her mouth.

"They set up a scholarship at Rice in his name. I think it's called the Danny Caesar Project? Or the Daniel Caesar Scholarship Fund." At this point she interrupted the driver to ask him whyonearthjesuschrist had they not taken the West Side Highway ­instead.

"Anyway, honey, it wasn't a scholarship to pay for college. You know your aunt and uncle don't have that kind of money. I think it was to pay for music lessons."

When I was a mere year and five months old, my cousin Danny was struck by lightning while hiking the Grand Canyon. I am told that he collapsed and died immediately, leaving his two companions to drag his body through the rain until they reached shelter. He was 21.

Danny was a musician with dark curly hair and black eyes to match. Aside from a few school years spent in London during my aunt's "international period," he had lived in Philadelphia his entire life. At 19, he left Pennsylvania for Texas to attend Rice University (a move that was judged as "impulsive" by more than a few members of my family). I know this because of whispers. And aside from these few quiet sputters of dialogue that filtered through the planks of our Thanksgiving dinner table, I do not know much else.

I am told that the odds of being struck by lightning are one in 6,250. I have read that approximately 25 ­people have perished at the Grand Canyon as a result of "freak accidents" (lighting strikes included).

"The sad thing is," my mother starts up again, and by this point I'd almost forgotten that we were on the phone, "that my birthday is May 13th." She sighs too loudly. "It's a sad day for your aunt, though she ­always manages to send a card."

There are things I want to say to Danny, but it's hard to formulate thoughts about a person I feel as though I've never met.

Things are colder now, I'd tell him. And though I don't exactly know how, I think if you were here you'd understand what I'm talking about.

Your mother is alive and well and still wearing heavy turquoise jewelry to match her faded green, cataract-spotted eyes.

Your father is still quiet. They fought cancer together, and I couldn't help but wonder whether they ever stood on their seventh floor balcony at the high-rise co-op overlooking the Gulf of Mexico, hands clasped and outstretched, waiting for the flash of green light that she insists is there at the precise moment the sun sinks beneath the waves.

I've always said that your parents' is the only type of real love. A failed schoolteacher and a has-been minor leaguer living off an old Chemical Bank pension and a couple of rental apartments that my mother furnishes for free. Charity is my mother's ­specialty.

When I tell people about Danny and the circumstances of his death, I'm always asked the same question. "So, are you afraid of lightning storms?" I say no.

When it storms, I like to walk ­outside barefoot and feel the flimsy, individual fibers of wet grass slip ­between my toes. I like to dance in the cold boiling mud, a brew of worms and nature's beautiful filth ­beneath my feet. I like the drops of water that speckle my eyelids and string transparent glass beads on my short eyelashes.

I like to run and let myself slide for that extra moment when I'm not quite sure whether I'm going to fall down. Yet it almost doesn't matter because at some point we're all going to fall down anyway.

When lightning finally paints the sky, I think of Danny and imagine he stands next to me on a nondescript beach. He takes my hand and somehow this face that I've never known, with its half-crooked smile and soft doe's eyes, seems so familiar. There are no words at this point, only half-faded photographs and invisible matching chinaware memories that I try to place within this spectral creature. And there is nothing left to do but stop. And open our gaping mouths to the stars and scream.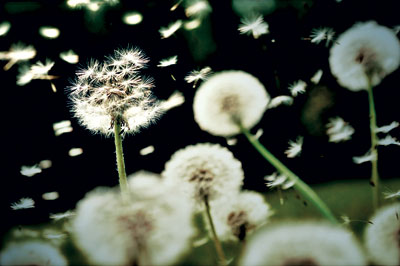 © Haley L., Anchorage, AK