Goodbye Laughter
February 8, 2011
I ran out of my mom's Mercedes.

"BYE MOM!" I yelled without looking back, in a hurry to make it to the door.

I rushed to the elevator.

Oh god. Oh god. Oh god. Oh god. I am SO late. They're going to kill me.
I glanced at my watch. 12:04 PM.
NO way! I was supposed to be here an hour ago! I am so busted. I can't believe this. Will we still have time to do it all? We have two hours to finish everything! Can this elevator go any faster? I mean, she had to live on a high floor. What time did she say she's coming again? What's our excuse for taking her here anyway? Does her mom know that we're doing this? If she does she better not have told her! Or the whole plan has no meaning! I can't believe this day has come.
I took a deep breath and looked at myself in the elevator mirror. I guess this is why I'm freaking out. I never thought that this day will actually come. And it's here. And it's ending everything. This day is the ending of our story, the last page in our book. And there is nothing I can do about it.
An abrupt vibrate in my pocket interrupted my thoughts. I pulled out my cell phone. The elevator door slid open as I checked the caller ID.
Diala.
Oh god.
I'm out of the elevator before the doors are even half open and with that I bang into the doorbell. The door opens instantly. They must have been waiting.
"Finally!" I hear Diala say before the door is even open.
"I'm so sorry!" I began to give them an explanation of my tardiness with all my heart and concern until Liana interrupts me coolly, suddenly coming out of nowhere in particular.
"Dude. Relax. Its okay, you're not any earlier then I am." Liana mentioned, taking a lot off my shoulders.
"Yeah, it's okay. I'm kind of glad you came late. I just woke up…" Diala admitted.
I couldn't help but laugh. This is why I love my friends. We are simply exactly alike in different ways. I look at my best friends. I love them. It's me, Liana, Diala. Wait someone's missing. Oh yeah! I suddenly remember why I was having a panic attack in Diala's doorway.
"Guys! Hello? What are we going to do about Miranda! We have exactly two hours on my watch to get everything done!" I called out, suddenly cautious again.
Diala and Liana got serious in a second. We had two hours of a lot of preparation to do. We got straight to work.
The night before, Miranda and I stayed up texting. I asked her questions and she answered. Those answers will help a lot today. What we needed today are Miranda's favorites: Pepperoni pizza, Skittles, After Eight Chocolate, Salt and Vinegar Chips, and Devil Cake from Sugar Daddy's. Diala ran off to the super market down the street to get all those things. I went to the DVD store downstairs and bought what are said to be Miranda's favorite movies. After that was accomplished, Liana finished working on the scrapbook that we have been working on for Miranda throughout the year as I created a playlist with Miranda's favorite songs on Diala's Mac. Diala came back and we joined Liana by putting all of our effort into the scrapbook Liana was working on and laughed over inside jokes we planned to include. When we were done, we set up nail polish of Miranda's favorite colors next to the DVD's we planned to watch. I looked at my watch. 1:37 PM. It was time for Diala to go get Miranda.
The plan was that Diala would go pick Miranda up from her house and take her to the 'mall'. On the way to the mall, Diala will pretend to have forgotten her wallet at home, meaning she has to come back to the house to pick it up. As soon as Miranda steps into the house, she will see the surprise we have spent weeks cramming on. Diala will miss call us, letting us know that they are in the building, giving us a signal to hide.

When Diala left, Liana and I hurried in putting all the food in plates, reheating pizza, picking up Skittles we've spilled, and writing 'We Love You Miranda' using M&N's on the cake. We set up the table that holds the food, music, drinks, and valuable scrapbook right at the entrance, meaning it's the first thing Miranda will see when she walks in and turns her face.

The door slid open.

Followed by Diala's voice, Miranda walks into the house.

"I'm SURE it's in the fridge!" stalls Diala once she sees that we aren't ready yet.

She stepped in front of Miranda, turning her away from the surprise.

"Diala! I'm sure you forgot your wallet in your room! What are the odds of finding your wallet in the fridge? That's not even rational. Why would it be in the fridge?" Miranda asked, honestly in doubt of whether her friend's gone crazy or not.

I was impressed by Diala's quick thinking. Diala's kitchen is right in front of our table set up. It was the only place Miranda could go to without passing our table since it was literally glued to the door. Honestly, how did Miranda not notice that Liana and I simply standing there.

Diala grabbed Miranda's arm and shoved her into the kitchen, missing the table completely. We heard Miranda in the kitchen being forced to rummage through Diala's fridge in search of a wallet. Liana and I had to cover our mouths with our hands to stop from laughing at how ridiculous that sounded. Diala came rushing out of the kitchen to spare us a couple of words before Miranda would follow her.

"I'm so sorry I forgot to miss call! Right now, HIDE!" Diala said in the loudest term a whisper could be.

We ducked under the table and saw Miranda's footsteps step out of the kitchen.

"Diala? Where?"

"SURPRISE!" Liana, Diala, and I popped out from under the table racing in the air.

Miranda shrieked.

We all bursted out laughing except Miranda. She was too shocked to make out what was happening.

"What is all this?" Miranda asked after she recovered from her shock. She sounded like she was about to cry.

"You didn't think that we weren't going to throw you a surprise party, were you?" Diala asked as a huge smile spread across her face.

"I swear! We love you Miranda! This is all for you!" Liana agreed.

"You changed our lives! We're not going to let the fact that you're moving change the fact that we will ALWAYS be best friends!" I added. I struggled on the word 'moving'.

"Wait. You did all this for me? You're throwing me a goodbye party? GUYS! This is AMAZING! You even got After Eight Chocolate! I just… you guys… I… This is the sweetest thing anybody has ever done for me. You guys are the BEST! I will NEVER forget you!" Tears ran down her face.

"Aww! Come on! We are not here to cry! It's a party! Let's have fun and enjoy every minute of the time we have left together!" I encouraged.

And with that, we had the time of our lives. We pigged out on pizza and chips, watched romantic movies that made us cry our eyes out, danced and sang to our favorite songs on karaoke, and painted our nails with various colors. To top it off, we had an extreme cake fight that left me believing that I will be blowing cake out of my nose for months.

There was one part about this perfect day that left us all in tears.

We gave Miranda the scrapbook. We sat down in a circle on the floor and flipped through pages of pictures and doodles that will forever hold our inside jokes. We recalled special moments and promised never to forget them. We spent hours crying over pages that were so soaked that I believe will hold our teardrops forever.

Saying goodbye was one of the hardest things I've done in my life. After dreadful moments of simply hugging and not wanting to let go, she had to leave. We hugged one last time and struggled to choke out the words that we never thought we had to say. Goodbye. Then there was just silence and the sound of the door closing. Before we could turn to each other and whisper the words 'she's gone', Miranda walked back in, breaking the intense moment, and simply said: "I forgot my stuff…"

At that moment, we all bursted out laughing. We hugged and laughed and said goodbye again, this time between giggles and smiles.

No doubt, Miranda changed my life. I will love her forever. But one thing I know for sure now is that friendship can last forever. I mean, why were we crying when we said goodbye? I'm glad she gave us another chance to say goodbye in laughter, the way it was meant to be said with her. Miranda is still in our hearts, and that's what really counts. We e-mail, we Skype, we talk, and we'll visit. It isn't the end of the world. Friendship can last forever. And goodbyes can even make you smile. I love you, Miranda.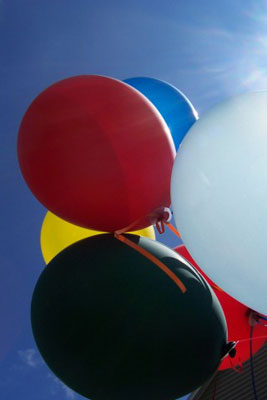 © Simone P., Summerville, SC