Can I Have This Dance?
February 23, 2011
Her face was bright and smiling. A party had begun on a summer night and she was ready to dance forever. The dance floor was nothing more than a garage, but it was enough for dancing. The summer breeze was getting colder as night began to settle. There was a smell of fresh air coming from the open garage door.
Dancing was a love of hers, for it was a fun way to escape the world. The sun had just begun to set when the song came on. "Take my hand, take a breath, pull me close, and take one step. Keep your eyes locked to mine and let the music be your guide." It was a waltz. An image of women in fine gowns and men in renaissance tuxedos came to her mind. The garage was a ballroom with Greek statues, tapestries, and a beautiful golden staircase. Just as fast as the image came, it went.
There where many girls there, but the boys were few in number. Couples began to form on the dance floor, and the single girls lined up with hands out, ready to be claimed by a boy. She was among these girls. Her brown hair was flipped behind her, and she stood there in her gray tank top and blue skirt. In her imagination, her blue shirt had grown into a beautiful gown, and her gray tank top became ruffled as the straps were placed at her arms showing her shoulders. That brown hair was curled and pinned up, but a few curls were falling out. She felt beautiful.
A brown-haired boy in a T-shirt and jeans began to approach her. She imagined him in white puffy shirt covered by a black jacket with black pants. He grabbed her by the hand, "Can I have this dance?"
"You may." She followed the boy out to the middle of the dance floor. He put one hand on her back and the other cradled her hand. She returned the favor by laying her free hand on his shoulder. It was the closest she had ever danced with someone before. He danced far better than she had expected. The ballroom was shinning now. The floor had golden sparkles, and the red roses in the vases and wrapped around the staircase rail were smiling. Their smell surrounded the entire room. That sweet smell was almost real. Her gown flowed with her, as they were spinning in the middle of the dance floor. Her heart grew wings, and flew away free and careless. Suddenly, she was a princess in a fairytale.
She had known him for years, but she had never thought of him like this before. He was suddenly a very handsome young man. Juliet was the name she felt for herself as she looked into the sparkling blue eyes of her Romeo. Finally she understood how Romeo and Juliet must have felt the night they danced together.
When the song ended, he let go, but she wanted him to hold on. The couples were all parting and they were back in that garage. He bowed saying, "Thank you."
She froze, still in shock from the incredible dance she had just been a part of. The bond holding her in her fantasies snapped, and she was back in the real world, but still in shock. She stumbled when she said, "Ye... yes, uh... thanks." She couldn't stop smiling and she wondered what he was thinking and if he was suspecting anything. The very next second, they both ran away to their friends.
She will never forget those glowing blue eyes, and she will always remember how his arms were holding her. He will be in her memory for as long as she is alive. I can still smell the roses.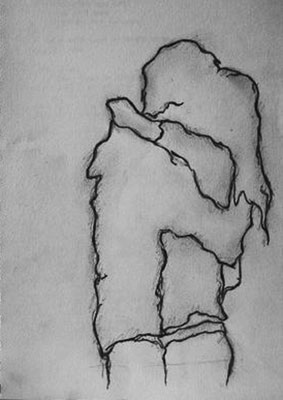 © Nicole B., Newcastle, WA