Love: A Teen Perspective
July 8, 2011
My dad always tells me he loves me. In the morning, on the phone, at night. All the time I was hearing it. He said he loved me more than any girl in the world and I asked, what about my step mum. He said that was a different kind of love, something I would experience when the time was right. I was too curious though, and made my dad explain then and there. I still don't fully get it; I guess I really will just have to find out for myself. But this is what he told me and what I've observed.

I am his daughter, part of me is part of him. It's programmed into a father to love his own. It's just how it works. There are no ifs, ands, or buts. He would love me unconditionally forever because I was his daughter. There is no denying that love. It is true, a father can abandon his young, but then he is not a father, he can never with dignity call himself a man. The love for a child is mysterious in its own way, a bond that will never truly break, but it cannot be considered on the same level as the bond between spouses.

The love between a couple is what is special. You aren't just presented with a partner and forced to love them unconditionally. There is a choice. You chose to be with this person for the rest of your life, promised you would stick with them until death do you part. Words or jealousy and rage can be flung carelessly and need special work to be forgiven. Words can be left buried deep until everything rots and turns black. Love so strong can bring on a wholly of emotions that you just don't know what to do with. Love can turn sour, spoiled with spite and drive a wedge in a marriage until it is forced to break. But love can be a wondrous power. It gives you reason when all hope was thought to be lost. Provides an escape from the most gruelling reality. Most of all, It is something to share, to give and take, to ensure that you will never have to be alone.
One day I saw my Grandma loose her husband. She held strong, but cried when she needed because that is what he would have wanted her to do. Before, a glance at her eyes and they were looking to him with adoration and complete devotion. A never wavering love that was strong from the start and growing steadily stronger. To look in his eyes was much the same; proud and protective of his cherished little wife. Now, her eyes are troubled and lost. The only equivalent I can think of is if the world were to lose her sun. Everything is dark and what lit her life every day was gone for good. She sees quick bursts of light in the form of friends and family, but now, that is all she has. They are like that flash of a camera and then she sinks back into her sunless world. I know one day she will get the light back in her eyes, but it will never shine as bright as when it did with him by her side.
Right now I am just a silly little high school girl, but one day I hope to find someone I choose and will choose me, too.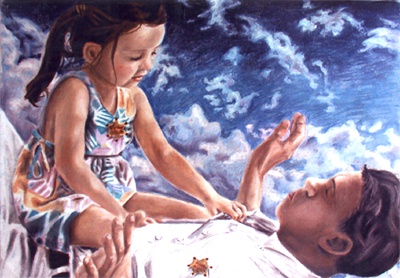 © Meg S., Andover, MA