Just Another Socially Awkward Cliché
July 22, 2011
My whole life I have been shy, in fact maybe that's an understatement. What I mean is, my whole life I have been plagued with a crippling insecurity that basically makes me completely handicapped when it comes to meeting new people and old people and any people for that matter. My whole life this has been my least favorite trait, the thing that triggers absolute self loathing and is basically the bain of my life and my whole life I have been told and made to feel that being shy is a horrible, terrible trait- trust me it can be awful; the amount of male friends I have acquired over the years needs only one hand, (as every time anything of the male variety comes my way I seize up in a fit of blushing and my mind goes blank- leaving me a wreck of a girl blushing and giggling- don't even get me started on my 'love life') I constantly feel I'm missing out on a variation of new interesting people I could be meeting and I'm known as 'the quiet one'-when really I'm anything but.
Over the years this affliction, in my darkest moments, has left me desperate, lonely and in search of any answer the web can give me- but when thinking clearly I ask why is it that I feel so very upset about being shy? Sure I do miss out on things, there are people I would love to know who I probably never will and the whole issue with boys definitely is an issue but I have gained some wonderful friends who I know are true friends because they took time to break through the barrier of reserve and got to know me. Equally the few boys I have gotten to know, really took the time and it felt even more special when I realised they cared enough to deal with all the mental barriers I put in place. In many ways shyness has made me the person I am today, without the loneliness I felt growing up as a shy child I would not have discovered the escapism of books and the peace of mind that I have found from inking my thoughts and feeling on to paper instead of letting them run wild in my head.
Being 'shy' is not ideal, I do not think this is the point I am trying to argue. However if you are shy you are in no way the only one out there and trust me it gives you an edge. Sure, if I could click my fingers and be more confident, finally comfortable in my own skin I would do it without a thought but I would never take back the years of isolation that taught me to find escape in beautiful things, speak with a voice worth hearing and to find myself before trying to find others. I believe it is something a person can 'grow out of' and that can inspire a person to be better than they ever imagined. I think being 'shy', 'timid', 'insecure' should not be seen as such a negative, it should be embraced. So, I can't wait for the day when I can walk up to a cute guy and ask him out without being a quivering mess and pursue my dream of having my own publishing company but for now I am just going to try to be happy being shy me- who has lovely friends, big dreams and a small voice. For now confidence is a thing of the future, but I will make sure it happens, so for now just wish me luck and good luck to you.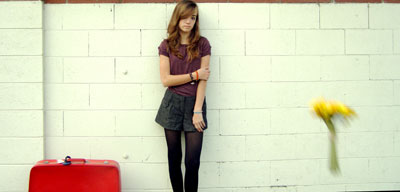 © Austin K., Studio City, CA