Left in Tears...
August 6, 2011
Megan: Hey there Colleen.
HOW YOU LIKING PIT
Colleen: it's okay…how's cymbals?
Megan: beast bro
way better than last year
Colleen: I bet…the pit is pretty boring…and remy's in pit, and he's annoying…so…
Megan: lol I love Rems.
<3
Colleen: Haha, yeah…he made Mr. Noyes look funny at him today…
Megan: What does that even mean?
Colleen: Remy did whatever and Mr. Noyes just looked at him like, "what the hell was that?!"
Megan: ahahahahaha
Colleen: yup
Megan: That's the Remssssss
Colleen: how was full band rehearsal?
Megan: it was so cool, it felt good playing all the songs again. :D
Colleen: I bet! I miss being on cymbals… :'(
Megan: lol I'm sowwie broo
What are you gonna do next year?
Colleen: It's okay, hopefully I'll make it next year…or senior year…
not really sure what I'm gonna do this year…depends how this year goes…

Hey guys, this is Colleen. I thought I'd tell you my story, and this is only the beginning. Megan and I were on cymbals in the battery for marching band freshman year. We are now sophomores and Megan is on cymbals, and I'm on vibraphone in the pit. Drum camp was 3 weeks ago and we just finished the 1st week of band camp.


Thinking back to that first day of drum camp reminds me why I don't like drum camp. The first day of drum camp was my birthday, and at least 3 or 4 people knew it was my birthday, including Megan, but only 1 of those people said 'Happy Birthday' to me in any way, and it wasn't Megan.
And that's when the tears came, hot and fresh, rolling down my face at the thought of my birthday. It wasn't a good one. Drum camp was from 9 in the morning til 6 in the evening. But the best part was seeing "Harry Potter and the Deathly Hallows Part 2" with 2 of my best friends. That was the only good thing about my birthday. Freshman year was pretty much hell, and I guess this year will be just about the same.
Megan: Well I guess you need to practice more on the audition stuff.
Me and Jen went every day after school.
Colleen: yeah, I really do…
Megan: to the high school
Colleen: awesome
Megan: to practice.
Colleen: yup
Megan: So you should do that
broo
And the tears kept on coming. I'm not popular in percussion, and I probably never will be. If I ever am popular, then it must have been by some sort of miracle. If only that miracle would come sooner.
Colleen: yeah, not sure I'm gonna do that…I can probably try though…
Megan: well you should try to go at least 3 days out of the week,
cause if you don't score good, you won't be on the instrument you want.
Colleen: yeah, I guess I'll try that…
Megan: yeah, and you gotta do the region music
Colleen: we do?
By this point, I was confused. I didn't know the all region music was going to be part of our audition. It never was before. Even with my tears blinding me, I could read perfectly fine what Megan was saying, so I kept on replying to her, even if it brought more tears to my eyes.
Megan: uh, yeah
Colleen: ooooookay
Megan: lol
bro
if you don't do the all region music
then
YOU'RE SCREWED
<3
Colleen: yeah, thanks…
I was crying even harder now. It seemed that no one in drumline cared about me, even though I knew they did. They just don't show it much, and it makes me that much sadder each and every day I have to suffer through drumline rehearsals.
Megan: it's the truth.
Colleen: yeah, ik…
Megan: Cause if you don't do it then you're not gonna be on the thing you want. If you show him you're good at all region, then he will take note at that.
TRUST MEH
Colleen: ooooookay…I'll actually practice all region this year…unlike last year…lol
Megan: haha I'm not gonna go to the all region thing.
I'm just gonna pass off ALL my stars.
:D
Colleen: I'm gonna try to pass off my stars…not sure about the actual all-region try outs or whatever…
Megan: If you don't, then you won't make it girly.
:D
Colleen: ik…I realized that…
Megan: yeah
Colleen: yeah…
And that was the end of our discussion. By the end, I had cried too many tears to count. Drumline was killing me, from the inside out. It was making me go crazy on the inside, and so it made me do weird things on the outside. And I have to say, this conversation started an hour ago, and ended about 20 minutes ago. If I hadn't been writing this personal experience for you all to see, I'd probably be playing a game on facebook, just like I was doing while chatting with Megan.
If you have ever had your heart ripped to pieces by the group that you fit into, but don't fit into, and that you want to be friends with everyone in the group even though you're already in the group and know everyone, then you know exactly how I feel.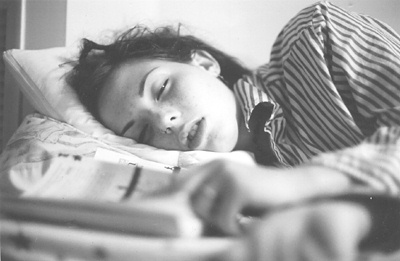 © Donna O., Kannapolis, NC