Picture This
MAG
October 5, 2011
The beginning of the school year is always stressful, no matter what grade you're in. New classes to deal with, new locker combos to learn, new classmates to irritate you, new teachers to make your life miserable, and best of all, school pictures.

It's practically another Murphy's law that school pictures never turn out well. Or rather, no one ever likes their pictures. Sure, there are always those few who happen to look perfect, but when you compliment them, of course they say they look awful.

Probably the main reason school pictures are a disaster is because of the pressure. Those who don't care and just throw on a T-shirt and a smile usually end up with the best pictures. Those who spend weeks choosing their outfit, days practicing their smile, and hours applying makeup usually end up with the awkward "don't let Mom send that to Grandma" pictures.

So many things can go wrong. Your "subtle" application of blush can make you look like a tomato. Watch the bronzer, unless you're going for burnt-pancake chic. You can straighten your hair and end up with flat, lifeless strands, or curl it and risk looking like a pet poodle.

And if your makeup and hair look fine, it's usually your smile that ruins the picture. Either you're smiling too much or not enough. Or you're smiling just plain weirdly. Some people like to go for the ­introspective "thinker" gaze, while others do the half-smile, as in "I'm pretending I don't care about this picture, when really I've been planning it for the past month." Either way, they end up looking like they're on drugs.

And then there's the matter of how old you end up looking. Some are fortunate to look their age or slightly older. And then there are those who look like they are much older – think red lips, pouffy hair, and wrinkles. Um, it might be a good idea to sleep the night before a school picture. Or in general.

Still, most of us receive our pictures and realize that we look a lot younger than we are – and as most of us haven't hit a midlife crisis yet, this isn't a good thing. The cameras and lights obviously don't agree with glasses and/or braces. Or adolescence, really. This is not to say that the teachers' photos are any better.

It all depends on the photographer. Either you get one who is constantly fixing your hair and telling you to "relax and smile more," or one who barely notices you and doesn't care if your eyes are closed or your shirt completely blends in with the background.

Which brings up another point – clothing. No matter how much effort you put into choosing a shirt, there will always be something wrong with it. Too bright, too dull, too patterned, too plain, too small, too baggy, too flashy, too conservative … the list goes on and on. You want it to be something you'll remember but not regret. Think high school yearbook photos from the '80s. Your parents might cringe now, but at the time they thought they looked great. The key is to wear something timeless but trendy.

And then there's the whole yearbook situation. Since most are arranged alphabetically by grade, you're stuck next to the same people year after year. You definitely don't want the spot next to the homecoming queen because you'll look hideous by comparison. Unless she lost her straightener and her shower was broken and her makeup was applied hurriedly in the car. One can only hope.

Why were school pictures invented, anyway? To torture kids, add pressure, and make you a target for jokes from classmates? No, to create wonderful mementos of your youth. So here's to another year of tedious homework, peer pressure, distorted self image, and awkwardness perpetuated by horrible school photos.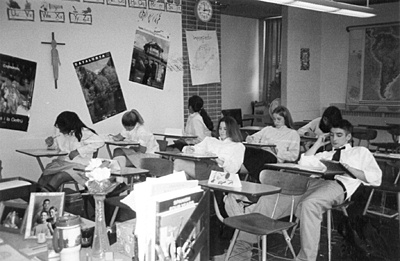 © Fox V., Whitesboro, VT