Last of a Dying Breed
November 10, 2011
For the longest time I was convinced that the honor, courage, and tenacity found in my heart couldn't be matched my any other man. I considered myself the last of a dying breed.

The sun peeks over the gray clouds of San Jose as I walk to my favorite park for a late afternoon sit down. Although most think a cloudy day is best enjoyed indoors, I find solace with the company of the dewy trees surrounding the benches at Northwood Park. Approaching my bench I find it occupied by a peculiar individual. He wore a heavy black coat, black pants and black boots, exactly what I wore. Coming up from behind he hears my footsteps, jumps to his feet, turns around, and yells," Risky from the East Side, What's up?"

"Danny from the East Side, What's up?" I respond extending my hand. The boy shakes my hand firmly looking me dead in the eyes as if he is a grown man. For minutes we stand face to face observing each other. The boy has fair skin, green eyes, and more scars on his face then hair. Although we look nothing alike I feel like I'm looking into a mirror. Silence is broken and at the same time we ask," So what are you doing here?"

"Just enjoying my park and this weather," I answer pointing at the sky with my eyes.

"Yes your park is nice and I like this weather, the sun seems to be fighting the clouds like good against evil. I was just passing through when your park compelled me to sit down, she seemed lonely."

"I like the way you think, and thank you for keeping my park company while I was away, her name is Northwood. Yours is Risky right?"
"Yea it is I take a lot of risk." He said taking off his hood exposing scars on his head. Three scars stood out on his head they were long and seemed recent. I wonder how he got them but I don't dare to ask.

"These three are nasty right? I got them last month in a fight against six big guys; one of them had a metal pipe."

"There not too bad at least you didn't get stabbed." I took off my hood exposing a thick short scar on the corner of my head.

"I got this in from a baseball bat in a brawl against six grown men. They stabbed me three times in my back."

"At least you're still alive," he said sternly yet sympathetically.
For hours we talk exchanging views of life and death. The only time we break eye contact is to look behind our backs. By the time our conversation ends the sun goes to sleep and owls hoot into the night. I offer to walk him home stressing the fact that it is dangerous to walk alone.

Risky denies my offer saying," Gracias but it wouldn't be fair. If you walk me home who is going to walk you home? Let's just take an even risk and both walk alone to our homes. I'll meet you here tomorrow if you want.

"That makes sense and alright bro I'll see you tomorrow."
They next day I show up to the park excited to hang out with my new friend. Sadly he doesn't show. I never saw him again. Later I hear of a Risky that was killed on a late cold night. I truly am the last of a dying breed.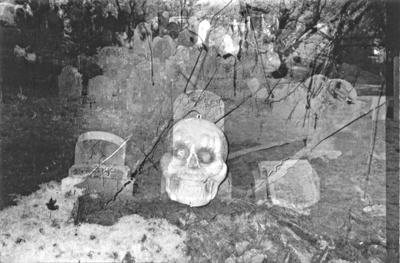 © Kyle M., Marblehead, MA