Language of Emotion
November 19, 2011
Music plays a very important role in my culture and for me personally. I've lived my life to a constant soundtrack, ever since my dad would hum Ave Maria to me as I slept in my crib as a child. Music is in everything I do, it is embedded in my very existence. It will flow through my veins and lungs, until my blood spills out and I breathe my last. It seems as though notes flow around me, whipping my hair and lifting me up with their beauty. Voices of every tone, strength, and pitch fly through me, telling me their stories. Music is the language of love, the language of passion, and the language of healing. Music helps those creep up from their lowest lows, and capture their highest highs. Music, plainly and simply, is the way you can express.

When I was younger, my parents weren't very discriminatory about the music I was exposed to. My mom liked country, folk, and blues, so I very quickly learned to put on my best cowboy boots and appreciate the musical styling of Waylon Jennings or Johnny Cash. Not to mention, I picked up an interest in guitar. My dad, on the other hand, introduced me to Latin music that he and his Puerto Rican family would listen to. Even though I didn't understand the words, there was something about the soulful voices and fun instruments that immediately got me hooked. Our house was constantly filled with sound, sometimes coming from multiple different sources. My family singing, my dad playing the piano, and the radio sweeping in from the living room all contributed to the atmosphere. Family events weren't complete without some sort if impromptu jam session. For me, music was synonymous with happiness. Happiness, and love.

From my neighborhood, I found different kinds of music. I could hear pop blasting from my best friend's sister's room, R&B swaying in from the parties, and electronic techno beeping and bouncing from the city. Eventually, even things that weren't inherently musical came to sound like it to me. Air meeting with the trees, the car leaving the driveway, and friends clapping each other on the back, they all contributed to the symphony going on around me. It was amazing, and oh so inspiring. Soon, I found myself wanting to put words to the sounds. I would write stories, alone in my room, just to go along with a song or sound that I had heard today. I would hear songs not as voices, but as people teaching me a lesson, a lesson that I believed needed sharing.

I know that I'm not the only one affected by the music cocooning us. My culture explodes with the power of it! You can not only hear music, but you can feel it in the water, see it in the buildings, and taste it in the food. It's as though my entire world is simply an opera house, just preparing itself for the ongoing performance. Music is important to culture because it keeps it fresh and inspiring. The workers building our cities, don't you think they were humming some sort of tune to keep them going? When the farmers felt like giving up, they didn't, but instead wrote out their troubles in a heart-tugging blues ballad. Music invokes emotions on the plane that spoken words simply cannot reach. We can build skyscrapers with words, but no one can reach the mountain heights of music. Music gives the feeling of pride to people, those who would rather sing the Star Spangled Banner than say the pledge. It's important, and vital in changing a group of people into one culture.

Overall, there isn't enough that can be said about music. It sustains the people, gives them something to keep going for. For me, music is a way that I can understand my feelings deeper. When I find the right song, it's like I'm hearing my own thoughts sung or played right back at me in a way that I could never have written down on paper or said to a mirror. It doesn't matter what language the song is in, what instruments are used, even if there are instruments or words at all. Music is energy, and it's pulsating through everything. I can't live without music, and even though you don't know it, neither can you.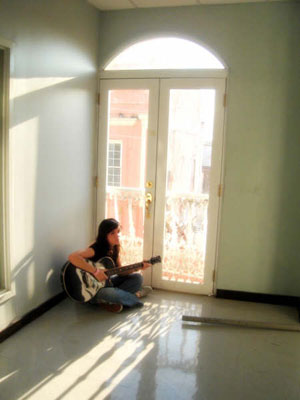 © Eveliz V., Bayamon, Puerto Rico