A Story Of An Anonymous
December 5, 2011
There is no person in sight to possibly understand a note of frequently dismayed liquor which had fought it's bewildering
way from the eyes so feeble perfectly frayed. So ordinary and capturing, to the gray grounds of the world of an
artificial beguile where blood of blood strike no resemblance until the hands and heart are locked in stiff chains
Of adversity.

And so, briefing my unconditionally complex life, i was born to a couple holding selfish measurements of their pleasure.
Much cursed i was, always haunted by the howling ghosts of gloom. I remember being a fragile, amiable young soul with
my feet attached from domestic machines to applauding crusts of soccer. I was a darling jester of short height yet with
much of a jovial face, i had been a heart conqueror.

as hours counted themselves, the clocked ticked forth and took its place in time. My life of beans started shrinking at
gradual speed of light. The pleasant sunrises, all wrapped in sluggish sunsets and mourning moonlights. Day by day, i became
much of a lonely angel, splitted from the celestial heavens thus like a garden of black roses. The scents of dead decaying
memories began to surround me with every tick of the clock. Whispers and wordless farewells began to bother my ears, thirsty
of words dipped in appreciation.

And like every other sunrise of smoky rays, the nostalgic breezes guided my sight to the secret window through which
I see an ugly painting of how ruthless world, my own offsprings misused the ladder of my generosity and how they have
made so humiliated, how i have become a dull uninteresting puppet with strings in their hands.

every green wound, so intense, rise up in rage and question my soul:
"How can you suffer for mistakes which stand pure of your hands? How can you endure the false pretense of personalities
so rude, brutal and ill human heart? How and for how long shall you be the companion to these imprisoned gloom and
humiliation? even their source of capturance seem rusting, and why making these crystal liquors beholded by whimsical
eyes, so unvaluable, to encounter at the slightest torment.
Why wishing to stay this way instead dimpling with pleasure? Why not demolishing all the ill souls of illusive affections?
And birthing a ray of mighty strength and possessing a magically mythical sword of inspiration as your tool against dreads
and terrors?"

And to these wounds, which cut through my veins, i reply in a tumultuous tone.
"How can i creep out of this bulbously bothering mess which bullets my soul every night under the volatile shine of moon
showering the bits of profound nameless pain." My mind shares the mutual desire of such flames of blithes and butterflies,
But the pounding heart argues and is privileged at where it sinks (my heart has the right to take decisions, as it has
gone through so much and now is like a sinking boat) reminding me of every micro cut that has already been tried mending
and stitching yet it's not in place and appears more like a bag of skunks. It questions about the source of such strength,
such cordiality and such joy. It says,
"You require a warm hand of a friend, a beautiful friend, who grabs your hand and forces you out. Therefore command your
sight to be in search of a generous mammal and maintain bonds." But i said, "There is no one to be seen around apparently, perhaps
it is the game of patience, the space beneath would be filled when i meet such a soul."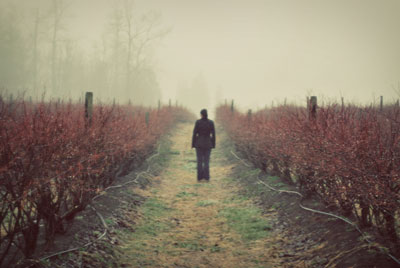 © Molly H., Lynden, WA