Green Tea
December 13, 2011
Grandma's tea was different from American tea. It was the real kind, the kind where you could actually see the short, pointed shape of the leaf, and if you drank it wrong, you would get a mouthful of bitterness.

I hardly ever visit my grandmother. She lives in China, half a world away. I go there on occasion, and sometimes I stay for the entire summer. It's so different, her world. After walking up four flights of stairs, you come to a stop outside a faded old door. The knocker is raspy and stiff, but the result is warm and welcoming. Grandma would push open the creaky door, and the first peek inside would be of a tiny kitchen. Grandpa would be cooking, the many smells of different dishes combining into a tart, sweet, savory jumble. The rest of the apartment is blanketed with the smoky smell of cigarettes.

After taking off our shoes and slipping into scratchy bamboo slippers, Grandma would lead Daddy and I into the living room. A small redwood table, usually pushed up against the far wall under the window, would be pulled out and covered with food. An assortment of chairs – high backed wooden ones, rough plastic ones – would surround the table. The window would be open, with but a thin bug screen to separate the night from the apartment. Only the cool breeze would penetrate. Of to the side of the room, the pleasant voice of the television broadcaster would murmur throughout the room. Next to it would be Grandma and Grandpa's tray of tea. All sorts of tea, held in fancy tin cans, stand next to a tall heated pitcher and Grandma's clear plastic mugs. On any other day, without the smell of rich foods, the cigarette smoke and tea would combine into the most cozy bitter scent.

Tired from the 14 hour flight, I would plop down on the stout, firm sofa, it's worn leather a muted red and the arms a sleek wood varnish. There I would lie for a few minutes, until Wendy and her parents arrived. They would come in, carrying yet more food and wine. Wendy's mom would go right up to Daddy, because he's her older brother. And then we would all sit, passing around food and letting the TV cover the silence of good food. After some time, conversation would start up again, and I would fade into the background.

My hands would run along the smooth cover of the table, my eyes would trace the dated design in the wallpaper, and in the depths of my consciousness, the cool bitterness of the boiling green tea would lull my mind to sleep.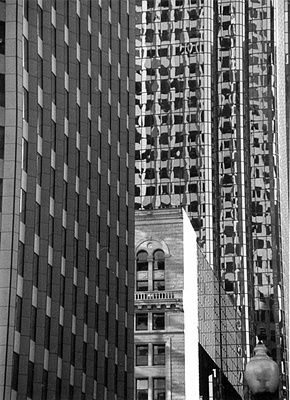 © Natalie D., Marblehead, MA