The Feeling of Being Helpless
March 4, 2012
There is only so much an 11 year old can look forward to when they wake up in the morning. Go to school, do homework, eat dinner, go to sleep, then repeat. This day was an exception. It was different from any other day I've ever experienced.
There I was sitting in my room watching T.V. like any normal kid would do. The world was still a perfect place and my biggest worry at the time was what would be for dinner. I had no idea that in a matter of minutes, my life would never be the same ever again.
My sister barged in my room with tears streaming down her cheeks, face puffed up and red from crying. I immediately stood up and looked at my sister with apprehensive eyes. She finally composed herself and quietly said, "Mom needs to tell you something."
I opened the door to my mother's room with trembling hands, not knowing what to expect. I've never seen so much empathy in someone's face before. She sat on her bed and told me to sit down next to her. My mother went right to the point.
"I have cancer."
At that moment, I felt like my whole body just shut down. I felt numb. The one person I looked up to the most and who I could count on for anything was sick. I wanted to be brave for my mother's sake but my heart did not allow it. I broke down in front of her. I didn't know much about cancer at the time; however, I did know it was a disease that could kill you. My mother pulled me closer and let me cry on her shoulder. She looked me in the eyes and said the words that I will never forget. "I am going to fight this and will never give up no matter how hard it gets."
The next couple of months when my mother was undergoing chemotherapy was the hardest time of my life. I rarely saw her because most of her time was spent sleeping. There were times when I would wake up in the middle of the night to the sound of her screaming and crying in pain. Seeing someone you love hurting helplessly is the worst feeling in the world. All I wanted to do was make her feel better, but it was hopeless. I hated more than anything seeing her like this.
There is one day in particular in which I will never forget. It was the day I saw my mother bald for the first time. I walked in on her while she was changing her wig and just stood there in shock. I didn't know what to say or how to act in the moment and I could tell my mother didn't want me to see her like that.
Throughout this whole time, I was praying for a miracle. I kept thinking about how I didn't want to grow up without a mother. I kept replaying the times when all of my friends would say 'everything would be okay' and all I wanted to do was believe that. My mother is the most kind-hearted person I know and I couldn't imagine going on without her. I hoped to God that she would get cured from this disease and that we would get through this.
After four months, I got the best news I've ever received. My mother was cured from lymphoma cancer. I felt like a huge weight of worry and depression has been lifted off my back. I hugged my mom when she got home that day and all I kept thinking about was how she was right. She fought for her life and the thought of giving up never once crossed her mind. This is why my mother is my hero.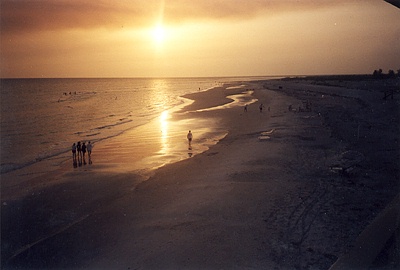 © Sara C., New Port Richey, FL