Finished With Life
April 3, 2012
I'm done. I'm finished with everything. Music, dancing, school, even life is proving to be pointless. Every body's in love and every one's happy, but not I. My world had been molded and by the hands of my classmates. I am at my breaking point.
People ask me "Are you okay? What's wrong?" Oh, how I yearn to tell them, for it is not that simple. If I speak, my voice will crack, break, crumble - just like the wall I put up - and I fear it will show my weaknesses and secrets for all to see. I don't want to be taken advantage of if a small morsel of the true me bleeds through. Why am I afraid of being alone, yet am terrified of accepting the help that's so openly and sincerely being offered?
Everyone says they're "in love". Everyone has a date to the next dance. Everybody except me. I feel I have lost the ability to love. I may know where it comes from, too. There are two possible sources.
My mother has been a victim of so many relationships gone sour. It tears me apart to see her broken. Every day, I still see the pain in her eyes, the young sparkle she used to have is gone. I think she's cried the glimmer of hope out along with the bucket of tears she's shed. She has wailed over so many broken dreams of romance.
Maybe I've lost my ability to love because of all the time I've spent chasing it, I always find myself running in a broken circle. I let myself become so easily led on by smidgeons of hopes and dreams that I forget the reality is this: that guy will never like me. But just for once, I want so desperately to be the special, chosen girl, not the friend to cry to when things go south.
I used to love music - singing, dancing, playing my instrument - but now, music is that abyss of sappy love songs that I willingly listen to to hurt myself. I used to admire the upbeat-ness of a simple Sousa march. Now, when I listen to Ragtime, I feel no glee. Not even a shred of joy.
The only way it seems I can express my true self is by writing, but even this piece can't bring me happiness or closure. I suppose "talking about it" is just a fluke. Pouring my useless ink onto this useless paper is... wel... useless. I want everything to go away. You have no clue what I would give to be happy, full, complete again.
Every outlet of pain I have learned to confide in is not helping me anymore. I'm not positive how to go about this problem. It relentlessly tears me apart like a cannibal every day. Do I need help or am I okay? Do I let it pass, or do something about it?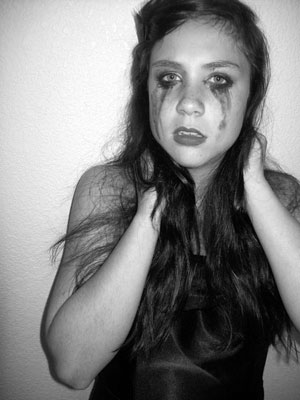 © Tiana D., Monument, CO