I Can Fly
April 20, 2012
A soccer player with an injured legs is like a bird with a broken wing. Hurt and restricted, each moment spent with the injury feels like a lifetime.

I have been playing soccer for about eight years now. I've switched from team to team and finally settled on one I like. The word "soccer" is as common in my life as the word "text". Running, kicking, blocking...it all comes so naturally now. I was devastated when I injured my leg.

I was sprinting back to block a goal from midfield when it happened. A small pain had started in my leg, but I chose to ignore it. I reached the soccer ball and succeeded in blocking a kick with my muscular legs. I stumbled and fell over after I blocked it. I was going to pop right back up as usual, but found that I couldn't. When I moved, a fiery pain ripped through my left calf. The muscle was extremely tense. Nothing like this had ever happened to me. I thought the injury was like a sprained ankle, something that I could still play on. But I couldn't.

I'm one of those players that never gets hurt. I take balls to the face and stomach without shedding a single tear. I was in disbelief. How could I get hurt so easily? How could I just drop, just like that? My mind wandered back to before the game. I hadn't stretched the muscle out, and then I had sprinted like my life depended on it. What a smart thing to do...

I didn't play the rest of the game. My steps were uneven and pathetic.

I thought a hot shower would fix me. I rotated between hot and cold water, I iced my leg...but when I took a step, I fell to the ground. How dramatic, right? That moment could have been a scene from a really cheesy action movie, where the main character gets hurt but still wants to keep going. In that moment I truly understood what it felt like to be that character. You want to keep going, keep helping, and keep moving. Your body, however, refuses to budge.

My parents and team forbid me from running at practices the following week. I sat on the sidelines, doing small things that wouldn't aggravate my leg. I gripped the grass, suppressing the instinct that urged me to get the ball, to run and take it. "The games are more important than the practices. Rest." The words from my coach echoed in my head.

Saturday, we had two games scheduled. I woke up with my leg feeling great. I prayed that I wouldn't hurt it again. My leg had caused me to limp all week. I'd even had to use a crutch! I wasn't able to use my powerful gift from God. The last thing I wanted to do was re-injure it. The worst part was not being able to run. It was even worse than not being able to go after the soccer ball. I felt trapped, restricted.

Like a bird with a broken wing.

I came to the game ready. My teammates reminded me to stretch several times, not wanting me to get hurt again. I followed their instructions.


Finally, the whistle blew. The game began. Girls booted, passed, and danced with the ball. I waited eagerly beside my teammates, ready for when they needed me. In the second half, the opportunity showed itself. An offensive player had gotten past two of our three defenders and was heading straight toward the goal. I poured on the speed and began to run over from midfield. At first I was hesitant, scared that I would get hurt again. But when nothing happened, my confidence grew and I went into a full-out sprint. The feeling was indescribable.


Yes, thank You God! I thought. I can fly!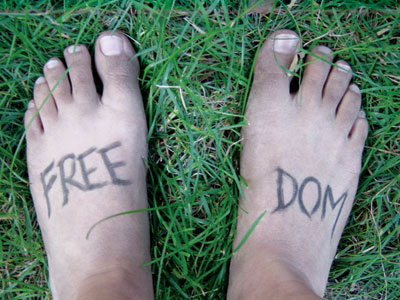 © Anna B., Northville, MI