The Fly
MAG
May 25, 2012
They whisper about me.

"Oh, her? I don't believe she said that."

"I know, I never thought she could do it."

"She'd never hurt a fly."

But I do hurt flies. All the time. This thought occurred to me one night as I went running around my room with a magazine, swatting at them. It's not that I am afraid, they just make me mad. Flies are annoying. They buzz at my ears, slowing me down, clouding my vision.

Almost like Heather.

The whispering started after I told her firmly, not meanly, to shut her mouth. I'm not supposed to do that. It's not my outer character. She stared at me – dumbfounded, flabbergasted, whatever you call it – for two seconds, then shuffled out the door. That's also not in her character. Usually she's strutting down the halls with her head held high, but I put her in her place, I hope.

It's not like she didn't deserve it. I would never step out of line for no reason. Over the past week she had been a fly in my face. Telling me I wasn't good enough. Buzzing in my ears. Clouding my vision. It's not that I was afraid to be hurt; she just got me mad. So I swatted at her.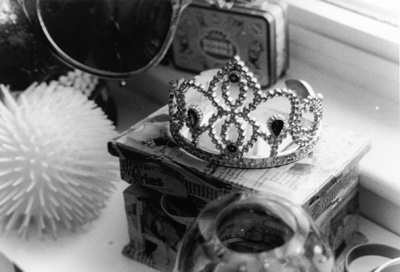 © Bayta R., Beverly, MA