The Creature
MAG
July 11, 2008
It was like a vivacious ceremony, bright and exciting but choreographed subconsciously like we had dreamed this before. We brought out the crinkled grocery bag and laid its contents in an amoeboid pattern before the murmuring TV, which displayed the approaching thunderstorm. Washable acrylic paints, winking sequins, and a multitude of paintbrushes with their synthetic bristles buzzing in the electric air, glad to be free of their plastic cavern.

"We have to hurry," Susie said. She gingerly touched each paint-crusted lid as if forming a picture in her abstract mind.

I nodded and followed her gaze out the window at the rolling mass of sparking, dark clouds on the horizon.

Brianna bounced out of the bathroom in an old, mismatched bathing suit and struck a pose. "I'm ready!" she proclaimed before toppling sideways and ­seducing giggles from us.

We set up beneath the full-bosomed tree that swayed in the ferocious winds like dark seaweed dancing with the current.

We laid an old, raspberry-colored drape on the ground, and Brianna dutifully stood on it. Her large, dark eyes flickered from Susie to me, then back to Susie. She nodded, signaling the start of the artistic power of joined imaginations.

I began with a nice shade of bright blue. I dipped my brush into the gleaming paint and ran my first stroke down Brianna's freckled shoulder, turning her skin into sky. Susie began splashing colors all over Brianna's pale skin, turning her into a storm of star bursts.

The air around our shaded spot dressed in a faded green glow, and my hair, still slightly wet from our pool adventure earlier, whipped around my face as I painted. I didn't mind; I didn't have to see in order to paint what I envisioned so clearly.

Globs and specks of paint flew everywhere in our frenzied haste, splotching my clothes, the grass, the drape, my hands. I switched colors and brushes, positions and strokes, as thunder forewarned the storm's approach and lightning forewarned the thunder.

A splash hit my nose and I looked up. The sky was starting to blossom. We ran inside, carrying our mutilated tools with us. We were finished anyway.

As the steaming rain pounded on the roof, Susie and I stood back to admire our living artwork under the synthetic light. We were stunned. This creature in front of us still had our friend's dark, mischievous eyes, but this creature was different. This creature did not belong in our world; instead it was from a fairy tale or a child's dark imagination.

It was covered in sweeping, glittering skin: bright blue, flamingo pink, onyx black, magnolia white, royal purple, and summer green. The colors flowed together like rivers and streams flowing into the ocean. Each was distinct yet they created a majestic creature, unnamed because there is no word for the combined effort of vision and expression in the ­living, breathing flesh.

Flames flared from its right leg and water cascaded down its chest. The creature's left arm blossomed ­into a blushing tulip at the hand and green spots freckled it. Swirls and slashes of color in no particular design danced across its body. What really caught my breath and made this creature untouchable and surreal were a pair of feathered, pink wings sprouting from its upper back, between the black shoulder blades. They were outlined in white and already the paint had started to chip and crackle, giving it a 3-D effect. If I stared long enough, I swear I could see them flutter ever so slightly, eager to leap into the sky.

For the final touches we stuck sequins wherever they fit, and I planted a handful of bright synthetic feathers in its bun. It smiled, flashing its white teeth against a dark face and the corners of our mouths ­followed.

It was a creature from the rolling deserts, the lush rainforest, the swirling ocean, the glaring arctic, and our deepest dreams. It was everything we were not. It was everything we wanted to be but knew we couldn't because it wasn't meant for us. It was always meant for Brianna: our friend, our artwork, our creature, our hidden reality.

The excitement died down and Brianna went to take a shower. The paint washed down the gurgling drain to join the dirt-stained sewer. The creature was gone, Brianna was back and everything was normal. The sun came out and we ventured back into its sweet, forgiving embrace.

We sat by the pool and stared up at the clear sky as we laughed and talked about the wonders of the world. A hawk flew above us and cried a greeting. I glanced over at Brianna, and for a moment, thought I saw a feathered wing twitch.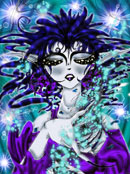 © Lena B., Olympia, WA