"You Can't Take it With You". . . or Can You?
December 12, 2012
"You Can't Take it With You" is a famous comedy that's done in theaters and high schools across the country. It's about two young people who get engaged and have their families, which are totally opposites, meet on the craziest night of their lives.
Alice is in a family that has many different hobbies. This includes collecting snakes and going to graduations, ballet dance, write plays, make fireworks, and playing the xylophone. Tony's is the vice-president of his father's business, Kirby and Co. and his mom is the perfect wife. After Tony and Alice get engaged, their families meet, but a day earlier than planned.
Since Tony's family comes early, they see everything that Alice's family does, which she's ashamed of. Instead of having a fancy dinner, they get pickled pigs feet, beer, and Campbell's soup. This proves the casualty that Alice's family already has with Tony's rich family. Instead of having polite conversation, they play "Forget-Me-Not." Mrs. Kirby's reactions to the words in the game get her in a lot of trouble with Mr. Kirby. The Department of Justice even sends men to the Sycamore's house that night. Since Alice's dad and his friend made fireworks without a permit and her brother-in-law unknowingly put Communist quotes into the boxes of candy his wife made. Because of this, everyone was arrested since they might have been accessories to the unknown crimes.
At my high school, we did this play Wednesday through Saturday last week. The audiences were laughing the entire time. I was an alcoholic actress, which caused me to have to act crazy on stage. Everyone who was a part of this had a great time on stage and we got to know each other even more. There were even a few new students who were in the play that are now good friends with Drama kids.
I'm glad I was able to do this play because I am great friends with Drama kids and love hanging out with them, no matter what we're doing. Plays are one of the best ways for Drama kids to get to know each other more because we're with each other during class, rehearsals, the play, striking the set afterward, and the cast party after the last play night. Drama is one thing I'm glad I've done for the rest of my life.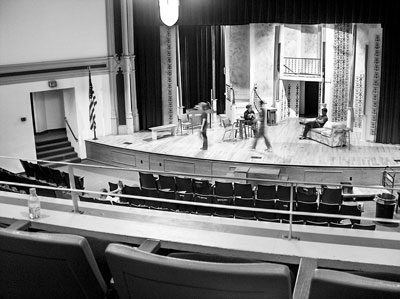 © Sean C., Princeton, IL