The Boy Who Used To Let Me Light His Cigarettes
February 19, 2014
I always watched him light another cigarette and felt my lips curve into a smile that I tried my best to hide. It was shameful, but I had gotten used to his addictions. It wasn't right for me to love something that could kill him, but I loved everything about him. I had gotten accustomed to sitting on the left side of his lap to avoid crushing the pack of Marlboro Reds that he kept in the right. I had almost been comforted by the feeling of the cardboard edges of the pack as they dug into my hip; the sensation of it was so familiar.

Sometimes he would ask me to light his smokes for him. He liked the expression my face would form while I concentrated on not singeing his eyebrows. He told me I looked cute. He laughed at me when I kicked him in the knee for saying so; smoke sliding passed his lips as he did. His 18th birthday was the best day of his life he would tell anyone who asked him. Then he would pull me into his side and kiss my head, telling them instead that it was actually the day he met me. I even learned to like the way he introduced me as "Jailbait" to all his friends. I'm sure that to this day not a single one of them knows my name.

He was rough around the edges, but he was still smooth to touch. He would get high and laugh a little too loud and smile a little too wide. His eyes used to shine through the red rings around them and I used to like to watch my reflection in his aviator sunglasses. I always looked pretty in the tint of the glass, and I couldn't help but wonder if that was how he saw me all the time. His old leather jacket was worn and a little rough for the wear, but all that mattered was that it felt nice against my cheek.

I would lie beside him late at night and rest my head on his chest, watching the stars and talking about nothing at all. He would listen for awhile and pet my hair. He always used to pet my hair. His hands were rough but he touched me soft. Eventually I would run out of intelligent things to say and he'd kiss me to keep me from saying anything else. He always tasted like cigarettes and Coca-Cola and I loved the way it mixed with my mint gum and cherry Chap Stick. He was all about bent rules and hard muscles and I was all about straight edges and soft lips. He made me promises and I helped him break them.

Toward the end we fought a lot. I even learned to enjoy that. He would never go away angry, because even when it was bad he still wouldn't hurt me. We would yell at each other for hours, he would hit the walls and I would throw things at him. At the end of it all we would sit in the middle of the room we'd just destroyed and wonder what else was broken. I would lean on him and he would wrap his arm around me. We would sit in silence for hours and just look at each other, not sure if the fight was over or not.

Making up was my favorite part of our relationship. Maybe that's why it happened so much. He used to cling to me after he yelled at me. He would crush me against him and hide his face in my neck. He never cried where I could see it, but the last time I felt the wetness as his tears fell on my skin. He would always beg for the forgiveness he didn't even need to ask for. I was never really mad at him. I would tell him it was ok and he would stare at me, his eyes wide and his teeth clenched. I could see the muscles working in his jaw.

I don't think he ever really understood what love was. I tried to tell him a few times, but he never seemed to get it. Maybe he did, because I know he loved me. I just don't think he understood how I could love him. How someone so beautiful could hate himself so much is beyond me, but I accepted that and I loved him in the ways that he could never love himself.

He was always so peaceful when he was asleep. I used lie there in the dark and watch him when I was afraid that moving would wake him up. I always slept beside him. I never had a choice. Even if I fell asleep on the couch I would wake up the next morning cocooned in his arms, surrounded by his heat. He never minded the little bit of extra stomach I would have when I slept on my side, he never minded that I snored in my sleep, he was just happy to be with me.

He had nightmares, and he always told me not to wake him, that if I did he would never get back to sleep. Sometimes I left him alone, but sometimes he would squeeze me so tight I couldn't breathe and mutter my name into my hair and I just couldn't help it. I would pretend to be asleep and let him think that he had woken up on his own.

Once he sat up and looked at me, watched me sleep like I did him. It made me self-conscious, and it was almost impossible not to move. He reached to move the hair away from my eyes, gently cupping my face in his palm and stroking my cheek with his thumb. He traced the lines of my neck and shoulders with his fingertips, and I could almost feel his smile. He settled beside me after he did and he pulled me close to his chest, draping one arm protectively over me. He fell back asleep before I did.

Our bed always smelled like smoke. He liked to have a cigarette when he woke up in the morning, and occasionally after we were intimate. I never really minded the smell, I would even ash his cigarette for him when he was too busy holding me to do it himself. I think he liked it that way, it was some sort of reassurance that I was okay with the fact that he smoked.

He would've given it up for me, had I asked, but he loved it and I didn't want to take that away from him. Not once did I ever ask him to change, and he demanded that I didn't. I knew there were things about me that he didn't like, but he would never tell me what they were. He always told me not to change, that if I changed I wouldn't be the same and then he wouldn't feel like I was his. I promised him I never would, and I still haven't.

I never broke a promise that I made to him. He was the only person I've ever met that I can say that about. I was like a puppy hanging at the end of his leash but he always left his end lying on the ground. He believed in letting me run free. He trusted me, and I think that's why I was so loyal.

He was my first love and my last love, the beginning and the end. I don't think I'll ever forget him, and if I do it won't be for long. I think of him when I smell smoke. I see him in the flames of every fire that I start. I hear him in every vinyl record that I play. I miss him each moment that I live. I loved him once and I'll always love him again, the boy who used to let me light his cigarettes.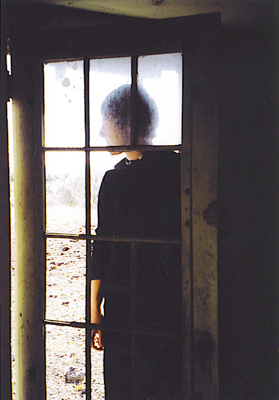 © Lindsay S., Billings, MT