Chenille
April 25, 2014
I named her Chenille, after the velvety yellow and pink fabric she was made of. She had a little hole in her where too much stuffing had overcome a weak seam, but she was squishy and made a nice pillow and her long ears and cotton tail tickled my nose when I buried my face in her. They gave her to me only because they felt bad for sick kids, but I liked her anyway, and the soft yellow-pink of her was a nice contrast to the sterile and white of everything else around me.

With Chenille by my side, the doctors figured out why I was tired all the time. They poked and prodded me, they scanned me, they medicated me. They told me, "you have a chronic disease". They read my genes and gave me a new identity, to be written in thick black permanent marker on my forehead: Sick Kid. Despite the cuddly toys, I did not like it one bit. I did not want the disease or the doctors or even the bunny to have any say in what makes me me. There was something written in my genes trying to control the definition of "Hannah", and I thought, I will not let it.

I want people to see me. I want people to see the sparkle in my eyes and the spread of my smile. I want people to think "effervescent" and "vibrant" and "clever". I want to laugh and be lovingly sarcastic and emit light from every inch of myself. I want to be that girl who is capable of anything and everything, passionate and perseverant and unstoppable. I am afraid that if I accept the sick, imperfect part of me, I am giving up on myself, resigning myself to be someone less than the person I know I could be.

But maybe your genetics are your identity. Just as people of different races find huge pieces of themselves in the genes that decide the shade of their skin or the shape of their eyes, maybe I should base my knowledge of who I am off of the part of me that was written before I was born. Maybe my fears of being less because of my disease shouldn't play such a big role in deciding who I am. Maybe there is more to a person than the finer points of her personality; maybe where you've come from and what you've been through is just as much who you are as your sense of humor and the way you wear your hair and your dreams for the future. And maybe, just maybe, I've been selling myself short by only accepting and loving the parts of myself I think others want to see.

Chenille the chenille bunny is still there, hidden in the back room of the basement between the old doll house and stacks of Learn-to-Read! books. And I still love her, in the true, warm way that kids love their imaginary friends, even though she has slowly fallen into the very back of my memories, to the deep dark corner I only traverse when everything else in my life is quiet. Maybe, someday soon, I'll go get her from back there, and dust her off and squeeze her hard and take a deep breath and present her to the world.

I named my rabbit after what she was made of. Her fabric is her entire identity. I think I need to follow her example, and let my fabric be more of mine.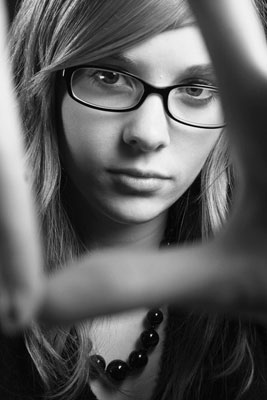 © Marina S., Vineyard Haven, MA